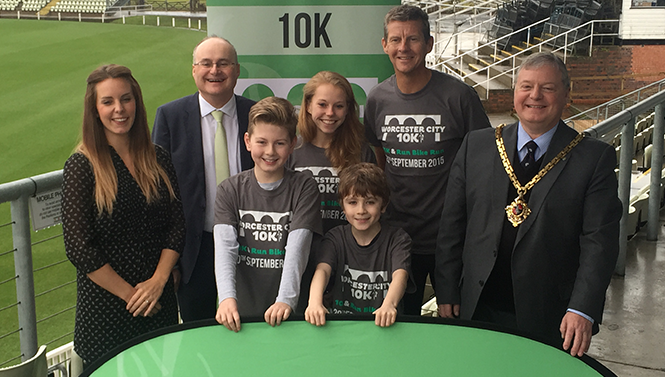 Organisers have revealed plans for the 2015 Worcester City Run events.  In a partnership involving Worcester City Council and athletics legend Steve Cram, this year's Worcester City 10K, Run-Bike-Run and Young Athletes Run will be held on Sunday 20 September.  The events made their debut in 2014, with thousands of competitors taking to the streets of the city for a festival of running and cycling.
The 2015 Worcester City Run is being organised by Events of the North, which has created and managed a series of successful sporting events in the UK.  The company is run by former international athlete, world record holder and Olympic medallist Steve Cram.  In 2014, Events of the North teamed up with Worcester City Council to found the new events in the heart of the city.  With routes that took in many of Worcester's iconic landmarks, the three races proved to be popular with competitors and spectators alike.
Steve Cram comments:

"We were delighted with how everything went last year.  Working closely with Worcester City Council, we staged three races that were a pleasure to be involved in as either participant or supporter.  Worcester offers a stunning backdrop and the enthusiasm generated on the day by everyone was great to see.

"After such a positive experience in 2014, we are very excited about the potential to grow the events this year, and make them even better.  I am sure that runners and cyclists of all ages and abilities will be signing up very soon and look forward to cheering them along the route on 20th September."
After a break of two years, the 2014 Worcester City 10K marked the return to racing of British athletics icon Paula Radcliffe.  Radcliffe finished an impressive third in the women's race, which was won by local rising star Jenny Nesbitt.
See last years event video below featuring Paula and winner Jenny, along with Jenny's comments on returning to defend her title in 2015.
Jenny Nesbitt comments:

"I have competed in many road races, but the Worcester City 10k has immediately become one of my favourites.  Of course, the result helped, but everything about the event was fantastic.  When I stepped up to the starting line last year I never imagined how much support I would get around the course.  The route is flat, which is great for times, but it's also very scenic, so it's appealing to serious and fun runners alike.

"I can't wait to come back this year and try to defend my title, as I never in a million years imagined being in this position.  Starting alongside my long time idol, Paula Radcliffe and finishing in front of her was an experience I will never forget, ever.  I'd really encourage any experienced or aspiring athlete to enter one of the Worcester City Run events.  There's going to be a great atmosphere on the day again and I hope that we see even more competitors and spectators there this year."
Entries to the Worcester City Run events are now open!
The event organisers are expecting around 3000 people to take part in the events on Sunday 20 September.