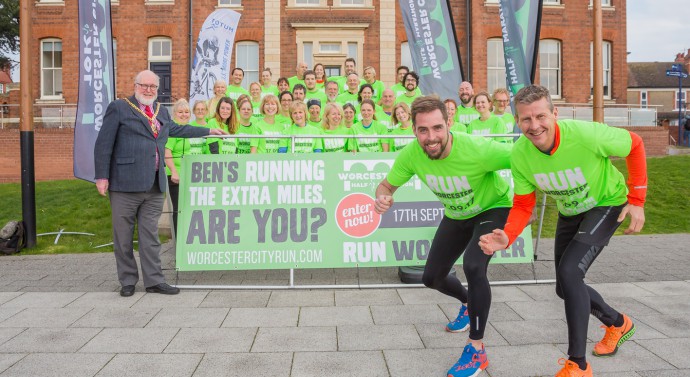 401 Marathon Man to run the inaugural Worcester City Run Half Marathon
News
27th March 2017
Comments Off
301
A man who ran 401 marathons in 401 days has visited Worcester to lend his support to the latest big event on the city's sporting calendar.  Ben Smith ran 401 marathons in 401 days during 2015 and 2016 and returned to the location of one of his runs in Worcester.  Smith was in the city to check out the route of the inaugural Worcester City Half Marathon, ahead of taking part in the race on Sunday 17 September.  The Worcester City Run events include the half marathon, the Worcester City 10K and the Young Athletes Run, and are delivered through a partnership between Worcester City Council and Events of the North.
Ben Smith ran his 102nd marathon in Worcester and on his return to the city, he thanked some of the runners from local club Black Pear Joggers, who had accompanied and supported him.  After meeting the Mayor of Worcester, Cllr Paul Denham, Smith joined world champion athlete and Worcester City Half Marathon founder Steve Cram to lead runners on a route around the city streets.
Later the same day, Smith and Cram took part in the first Start Me Up For Worcester (#SMUFW) session, an initiative open to runners of all abilities and designed to help people prepare for the 10K or half marathon later in the year.  Worcester City Run event partners Freedom Leisure and Totum Sport hosted the first #SMUFW session at Perdiswell Leisure Centre.  The session began with a 'meet and greet' with Smith and Cram, followed by an easy 5K run.  Places on future #SMUFW sessions are strictly limited.  Anyone who is interested should apply by sending an email to info@worcestercityrun.com.
Steve Cram comments: "Ben is a truly inspirational person, who has transformed his own life through running, and then used his experience to do a huge amount of good work for some great causes.  His achievement of completing 401 marathons in as many days is really hard to comprehend and it's great to see that all of that running hasn't deterred Ben from lacing up his trainers again.  We're absolutely delighted that he's going to join us for the Worcester City Half Marathon and I'm sure that his story will encourage even more people to sign-up to tackle the half or 10K on 17 September."
Ben Smith adds:
 "Coming back to Worcester just over a year since I last ran here for marathon 102 has been great! Having revisited the course I previously ran has brought back incredible memories and I am honoured to be launching the Worcester event today. I'm even more excited to be taking part in the first ever Worcester City Run Half Marathon. I just wonder how many people will go the extra miles and come join me?"
During his 401 marathons, Ben Smith raised over £315,000 for Kidscape and Stonewall, two charities that tackle bullying in society.  Smith ran a total of 10,506.2 miles and spoke at schools throughout the country about bullying issues.  Following his achievement, he was presented with the Helen Rollason Award at the 2016 BBC Sports Personality of the Year Awards and was recently crowned ITV Fundraiser of the Year at the Pride of Britain Awards.
Places on the Worcester City Half Marathon cost £35 for unaffiliated runners (£33 for affiliated).  Places on the Worcester City 10K cost £27 for unaffiliated runners (£25 for affiliated) and places on the Young Athletes Run (one mile for under 11s and 3k for under 16s) cost £8.