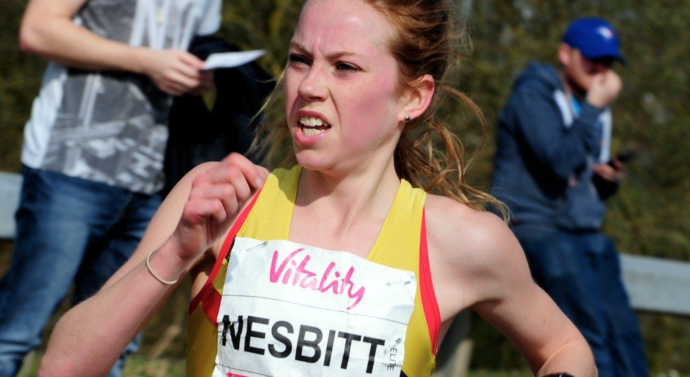 On Sunday, Jenny Nesbitt ran her first half marathon at the Reading Half, storming home first lady in an astounding 1:12:54. All at Worcester City Run are very proud of the role we played in starting her love affair with the road! Her latest blog is all about what she has been up to in training.
Hi Again!
Just me checking in, and making sure you are all getting your entires sorted for the Worcester City Run (18th September if you have forgotten!). Obviously, you will all have done this already and beaten me to the mark… I am yet to make my entry! It is okay though, there is still plenty of time, so there are no excuses.
I have had a busy few weeks. The cross country season has well and truly finished, and although the weather has not been so seasonal, there have been no excuses to not lace up my trainers and get out there! After a week of easy (!!) running and basically no hard efforts at all (this was pure cruelty from coach!) the middle of March commenced with the next block of training and the excitement of running on the roads and the track.
Over the next couple of weeks, the mileage built up, the hard efforts recommenced (yey!), and I even managed to fit in a Saturday parkrun at the Worcester Woods. parkrun is a great, well-organised and free 5km timed run ( NOT a race…..) around the Nunnery woods. It is a perfect addition to your training, whatever time you are hoping to run. With over 400 runners a week, there is a great little buzz, and loads of on course support. Check it out if you haven't already at  
http://www.parkrun.org.uk/worcester/
As April approached, a short and small taper began in order to run the Reading Half on the 3rd. My first half marathon! It was a great experience and I was chuffed with the outcome (and time!). I think my legs may well still be in Reading somewhere though… I seem to be 'waddling' somewhat today. Still, a great way to start the summer off, and even the weather was sunny, bonus!
I first got a buzz for road running, 2 years ago, when I ran the first ever Worcester City 10km on a warm September morning. I had never really done any road racing before, and in fact only ever done 2 other road races since. But the whole experience, atmosphere and vibe got me caught, and I am now hooked on ensuring that road racing is something I continue to do forever. I am a bit partial to the Worcester 10km, maybe because it is in my home town or maybe because it was my first ever road 10km, but whatever the reason, I would be VERY surprised if you didn't LOVE it too!
So, whats next? For me, I will be repping the Worcester Colours in about 10 days time at the National Road relays, before commencing track racing with BUCS. I am really looking forward to the next few races, and seeing what I can do.
I shall be checking in with you all again soon, and I hope to see you all entered ready for the best 10km of your life!
Until next time – keep running!
Jen xx @jennynesbitt