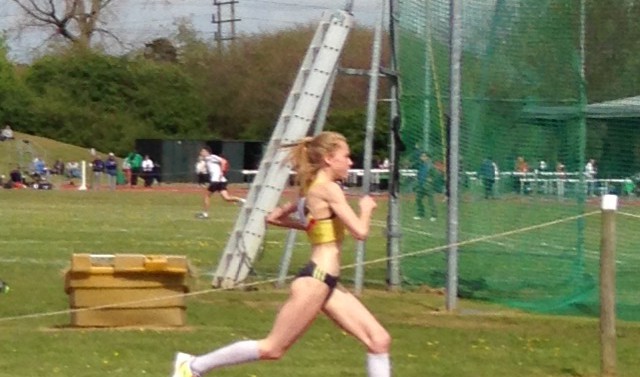 I don't know about you, but watching the London marathon on Sunday inspired me more than ever to continue at the sport that I love. Watching Paula Radcliffe complete her last 26.2 miles of competitive running was something I won't forget. To think that I have looked up to her since I started running, had the chance to run against her and now seen her finish her last race, I can only hope to be half as incredible as her!
One thing that sticks with me the most when watching the London marathon is just the vast numbers of people lining up. It just shows that anyone, of any age and of any experience can do what ever they want if they put their heart and soul into it.
And by that I mean anything. Its all too common to hear someone say 'this isn't for me' or 'I wouldn't have enough time to do that' but really that isn't true. Whether it is going out and running, training for a marathon or simply cooking a healthy meal, if you want to do it, you will…. It's a matter of will power!
Back to the marathon though, and the incredible performances that were displayed. I was secretly hoping for a world record in the Mens elite race (although, I am sure a lot of people were!) and I am sure it is only a matter of time until the 2 hour barrier is broken. As for the Women's, I don't think the 2 hours and 15 minutes recorded by Paula will be touched for a long time. It wasn't all about the elite performances though, but the thousands of regular, normal people, with regular, normal jobs getting out there and showing that they too can do it.
Whether it is in 2 hours 15 minutes or 6 hours… everyone with a medal has covered the 26.2 miles… inspirational!
I remember running the London Mini Marathon for a couple of years when I was younger, covering the last 3 miles of the real marathon. I can simply say that the atmosphere was insane and the experience is something. If I could, I would repeat over and over again. Believe me when I say that the elation of crossing the finish line in The Mall is out of this world – don't believe me.. find out for yourself!
I guess it is events like the Worcester 10km that get you ready for the biggest experiences. Those of you that followed it last year will know that Paula ran as part of her preparation for the marathon and look how well it served her. You need to set yourself challenges along the way and races like these are the perfect opportunities to do so. Just imagine the extra inspiration and motivation you can bottle up when collecting your array of finisher medals – its all worth it!
Inspiration and motivation, alongside a huge drive and complete love has what has got me though the last few weeks.
Injury, like I said is part and parcel of running, and you'd be an idiot to think you could sail though your whole life time without one. This doesn't make it any easier though, trust me! I guess at times like these though, you really do discover how many people are there to support you and help you on your way… Boy oh boy, there are a lot of fantastic people out there willing to give up their time to help me. From a viewing perspective it is easy to see 'the athlete' and their performances, but ask any athlete and they will be quick to tell you how much of an important role the people 'behind the scenes' play – these are the people that make you. And they really do!!
So I am back looking like a nutter, running around the streets of Worcester, and that's thanks to everyone from 'behind the scenes'. It is impossible to be able to thank these people enough. As for the moment though, it is about putting in the hard work, topping up the miles and preventing any more injuries. So I am sure if you are in Worcester you will see me around… More than likely sweating and looking less than gorgeous as I pound the pavements, but 'this girl can'… and she will!
Hoping to see some of you guys on my travels,
For now, have a good bank holiday weekend…
 Jen xx
@jennynesbitt