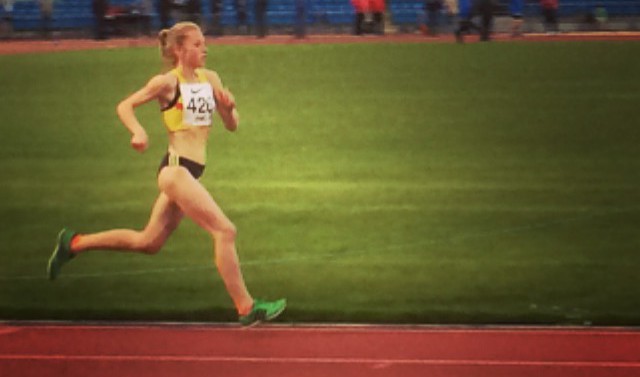 A challenge, or an opportunity? I guess thats like asking if the glass is half empty or half full. It depends how you perceive it. Personally, I think that every challenge is an opportunity and every opportunity is a challenge. Bit of a tongue twister that.
This week I raced over 5000m for the second time in my life. In the surrounds of Sports City, Manchester, you certainly feel inspired by the strong calibre of the environment. I saw this race as an opportunity to improve upon what I considered a poor first 5000m attempt. That was the challenge. The opportunity was the race, the chance to do that and the time to put my hard work into practice. The race was filled with highly strung athletes, who one day I inspire to be as good as… For me a new PB and a strong time would suffice.
Finishing the race and confirming my time – 16.09, I had achieved what I set out to do, in fact a lot better than I thought I would. I should be over the moon right – no! Just 4 seconds outside the Euro U23 qualifying time (which would be a second QT for me, as I have the 10,000m) was a bitter pill to swallow. If someone had told me though I'd have run that time before the race, I'd have laughed… and this is what I have to think of when I reflect upon it. I guess I've set myself a new challenge for a few weeks time – another opportunity to do what I love.
In a way, having challenges to chase is what gives you the drive to continue. I don't just mean when running, but in life when you've got a goal, a focus and an opportunity to achieve, energy you didn't think existed emerges and allows you to continue. It is a bit like magic really!
Challenges can seem overwhelming sometimes though, thats to be expected. Whats a challenge if you are able to just click your fingers and have it sorted? Hard work and continuous determination is what makes you (or breaks you… then you just use the opportunity, see what I mean!).
Sometimes, challenges come from what you don't expect. As an athlete, one of the biggest challenges is illness and injury and can be so disheartening, especially when you feel training is going well. But I've discovered that if you embrace these challenges as best you can (I know this really is so much more easier said than done….) you become a stronger, wiser and greater individual. Not only that, but new opportunities can arise. For me, injury has led me to team up with 206 Physio and they have helped me overcome my problems. Not only that, but keeping in regular contact with them has also allowed me the chance to gain valuable advice week in and week out.. Now thats more than just a bonus! I've also been lucky enough to get regular physio from Russell Kingston – a fantastic physio – who keeps me in check, something that is so important when you train day in and day out. Paul Hobrough was also another individual I was put in contact with through Steve Cram when I was injured and the information, advice and help he has given me will help me for years to come. So see, it isn't all bad… You need to take the opportunities out of the challenges (especially the negative ones!), and put that mental toughness into practice!
Everyone is different, and everyone's challenges are going to be different. For some it may be getting up in the morning and making the most of the day ahead, for others it may be climbing Mount Everest as fast as possible, but whatever it is, chasing and achieving your challenges makes you feel alive. Embrace the moment and behold the opportunity is my advice!
I would say that as the weather is getting nicer, it is lovely to see people out and about challenging themselves to a run. But the weather isn't getting nicer…. So it is just lovely to see people out and about taking the opportunity to blow away the cobwebs and possibly start training up for the Worcester City 10km. As far as challenges and opportunities go, this race (The Worcester City 10km) certainly incorporated the two. I still have to stop and think about last year… I remember standing on the start line thinking what an opportunity this is, to run against a true legend, then I remember challenging myself to not let Paula Radcliffe out of my sight. I embraced both of them and that extra energy I didn't think existed really did emerge and to this day I feel honoured to have been in the same company as Paula.
So maybe…. set this as your next challenge. 20th September 2015, 10km around Worcester, fantastic atmosphere and a great experience. An opportunity you don't want to miss!
Hopefully I'll see some of you out training along the river (my favourite spot to run this time of the year!) in preparation for September.
 Remember – "DON'T RUN AWAY FROM CHALLENGES… RUN OVER THEM!"
Until next time….
Jen

xx
@jennynesbitt