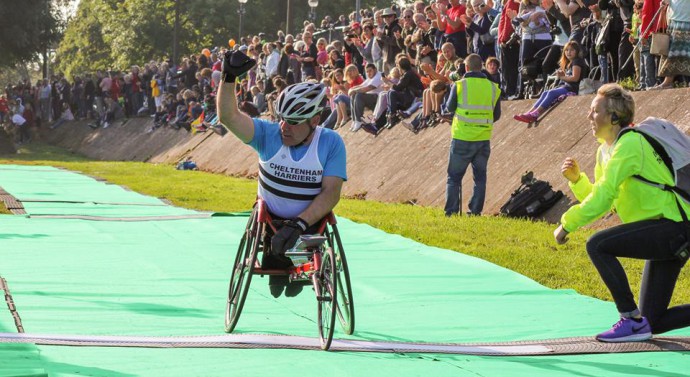 With just a few days left of our Early Bird entry offer, one man to get his entry in early really stood out for the Worcester City Run team: our first wheelchair athlete home in 2014.
Ed Grazier is a force to be reckoned with, an athlete with 25 years of racing experience who has competed for Great Britain at Junior, Youth and Senior level. Ed is a member of Cheltenham & County Harriers and has been a member of the club for approximately 15 years. (See Ed's recent racing profile at http://www.thepowerof10.info/athletes/profile.aspx?athleteid=197795)
Ed aged 41 works as an IT technician and lives currently in Cheltenham, although originally is from Bromsgrove, Worcestershire. Ed told us that racing in Worcester feels like a special homecoming.
"I really enjoyed taking part in the Worcester City 10k last year and was made to feel really welcome. My main highlight of the race was the support of the crowd, especially when going over the main city bridge and approaching the racecourse at the finish of the race. It is always nice when you win a race, but because Worcester is close to Bromsgrove, it felt like a home race with family and friends there supporting me."
Ed's training is focused and varied enabling him to compete in track and road racing. He competes in a number of events from 400m up to the Marathon. To enable him to do this Ed trains most days either on the road or athletics track. Sessions will usually range from 10 to 20 miles depending on competitions that he is working towards.
Ed is looking forward to returning to Worcester 10k on September 20th to attempt to regain his 2014 title. He told us:
"I have chosen to compete in the Worcester City 10k again this year because of how much I enjoyed the race last year. The atmosphere at the race was really good with lots of support from the crowds, the organisers made me feel very welcome and the race was really well organised."
We look forward to welcoming Ed back in September and wish him all the very best in his training and racing.