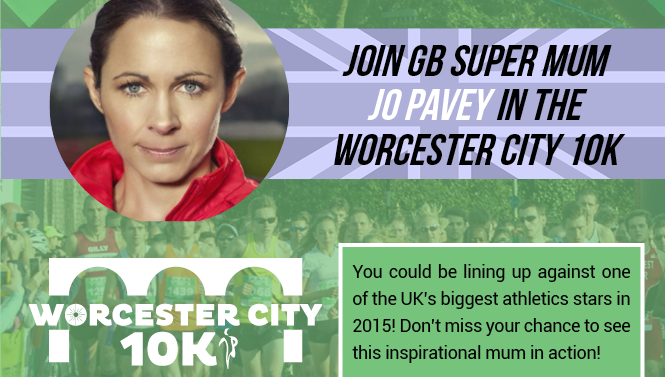 European champion JO PAVEY signs up for the 2015 Worcester City 10K
Uncategorised
19th June 2015
Comments Off
197
The organisers of the Worcester City 10K have revealed that one of the UK's biggest athletics stars will take part in the race this year. Jo Pavey, European 10,000m champion and two time Commonwealth Games medallist, will line up when the event is held on Sunday 20 September.
Jo Pavey provided one of the sporting stories of the year in 2014, when at the age of 40, she produced the best performances of her life to win a bronze medal in the 5,000m at the Commonwealth Games in Glasgow, only to top that with a 10,000m gold in the European Championships a few weeks later.  All of this happened the year after Pavey gave birth to her second child and her achievements on the track led to the public voting her into third position in the 2014 BBC Sports Personality of the Year award.
Steve Cram, founder and organiser of the Worcester City 10K, comments:

"Jo is a genuine inspiration on so many levels.  She is still competing at the very top level in her 40s, which is fantastic, and she does so with a wonderful attitude.  Her story has really struck a chord with the British public and demonstrates to women – and men – that age doesn't have to be a barrier to great running performances.  Once again, Jo is running really well this year and although the Worcester City 10K isn't her main target for the season, we still expect her to be at the sharp end of the field on 20 September!"
Jo Pavey adds:

"I'm really looking forward to joining everyone in Worcester on 20 September.  I have spoken to a few people about the event and everyone has said that last year's race was a great occasion that attracted fantastic support.  The route looks lovely and will certainly show off some of the best sights in a beautiful city.  If the people of Worcester come out to cheer on the athletes like I'm told they did in 2014, then it should be a very enjoyable run for everyone."
The 2015 Worcester City 10K, Run-Bike-Run and Young Athletes Run will all take place on Sunday 20 September and are being organised by Steve Cram's company Events of the North, in partnership with Worcester City Council.  Places on the Run Worcester events are available at www.worcestercity10k.com. The Worcester City 10K costs £25 to enter for unaffiliated runners (£23 for affiliated) and places on the Young Athletes Run cost £8.  The Run-Bike-Run (10K run, followed by a 35K bike ride, and a 5K run) costs £50/£47 to enter as an individual and £75 per team.
ends
For further media information please contact Right Lines Communications:
Chris Lines: 07971 868329, chris@rightlines.info or www.twitter.com/chrisjlines.