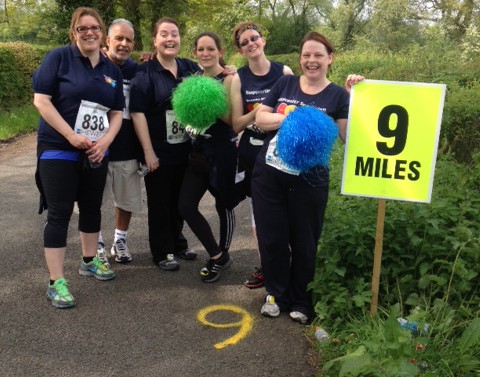 Jane Roberts is heading a team to Worcester City Run this year from the amazing Worcester Snoezelen. She told us all about the charity and her excitement over pom-poms and a good roast dinner at the end!

What is the Worcester Snoezelen?
The Worcester Snoezelen is an independent charity based in Worcester. 350+ children and adults who have learning disabilities and additional needs visit every week from all over the West Midlands.The centre has 4 multi-sensory rooms, hydro therapy pool, soft play area, music, arts and sensory garden. Our members and families tell us about the important role the centre plays in bringing fulfilment into their lives.
We all need fun activities to look forward to. For some this may be meeting friends, or watching a film. For people who have learning disabilities there are fewer appropriate opportunities to enjoy recreational activities such as these. The Snoezelen has been created specifically to enhance the lives of people with disabilities. Every day we are privileged to bring joy into the lives of others.
What is your role with Worcester Snoezelen?
Over the past 18 years I have been fortunate to watch the charity grown and develop.  In June 1998 some luck was shining on me when I started work as the junior at the centre. The charity was only 5 years old then and I was totally in awe of Penny who worked tirelessly to create the Snoezelen charity. Her approach and dedication was inspiring and the seeing just how much benefit people gained from enjoying hydro and sensory activities was addictive. I couldn't believe my luck, basically my job was to work in a centre which brought people joy. Jobs don't come much better than that.
Nowadays I am the Chief Officer of the charity and I don't get to spend so much time in the centre with our members but when I do it is my favourite thing and never fails to brighten your day.The centre is busy, vibrant and no two days are the same. You've got people arriving for the hydro pool, others enjoying their multi-sensory session or having a good old sing in the music room. It's non-stop. One of our members once asked my colleague… 'what does the number 12 taste like?' what a jolly good question. Talk about seeing life from another perspective!
Tell me about the team taking part in Worcester City Run on Sunday
We've got people running, walking and wheeling the 10K. This will be our chairman's 23nd run for Snoezelen. That in itself is pretty impressive and even more so when you realize he is 70 and lives in Yorkshire! That's dedication for you!  I've got 7 family members taking part in the 10k some of whom live in Worcester others are traveling from Sheffield and Worcester. They are all big Snoezelen supporters.
One of our members who is a wheelchair user, Pat Cook, will be supported by Snoezelen staff member Nick Lewis. There will be a team of us walking together and I can't wait to see the look on her face as she waves regally to the crowds with her pompoms!
Why did you choose the Worcester City Run?
This is the first year Snoezelen has entered a team in the 10K. We have previously had teams in 8 half marathons in Worcester and Birmingham but we are really looking forward to getting our logo out there through the city centre. I expect the buzz of the crowd will be amazing.
What are you most looking forward to?
I'm not the sportiest of people (she says munching on a bourbon). I've walked 5 half marathons in the past and although it may only be walking my feet and legs know about it afterwards. I learned early on that the more change you collect in your charity bucket the more your arm and elbow will ache the next day!
The thing I love about races is the buzz. The thought that so many people are all gathered for a common goal. There is so much excitement, expectation and goodwill in the air at these events that it makes you feel like you are part of something much bigger than just a race. You feel proud of yourself for taking part, you talk to the random person next to you and you help people along the way. It's lovely.
I'm also looking forward to a roast dinner with the family afterwards and seeing Pat cross the finish line waving her pompoms!
Good luck to all of you at Worcester Snoezelen from the Worcester City Run Team!
To donate please visit Snozelen charity
For more info please visit Snoezelen