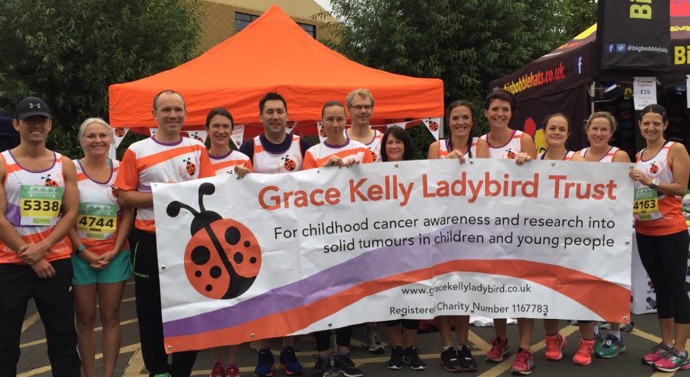 Fantastic 40 to take on Worcester City Run in support of Grace Kelly Ladybird Trust
News
6th June 2018
Comments Off
136
A group of over 40 runners are set to take part in this year's Worcester City Run races in memory of a four-year-old girl who passed away from a rare form of cancer.  41 runners have signed up so far to take part in the event's 10K and half marathon events on Sunday 16 September, in support of Worcester-based charity, the Grace Kelly Ladybird Trust.
The charity was set up in memory of Grace Elizabeth Kelly, from Crowle, who passed away in November 2014 from a rare form of childhood cancer called malignant rhabdoid tumour.  The trust is working to help save the lives of other children and young people with cancer by funding research, providing education, raising awareness and working towards an earlier diagnosis for children with cancer.  The charity also provides support for families.
This is the second year that the Grace Kelly Ladybird Trust has had a presence at the Worcester City Run after 27 runners cross the finishing line in 2017, raising nearly £10,000 in the process.  The 2018 team, which includes family members of a young boy from Worcestershire who was diagnosed with cancer as a direct result of the charity's awareness cards, aim to at least equal last year's fundraising total this time around.
Grace's mum, Jennifer Kelly, is director of the Grace Kelly Ladybird Trust, which she established along with a group of trustees, and completed the Worcester City Half Marathon last year.
She comments:
"When Grace passed away, she left behind a legacy, which was a wish to help others.  That legacy, through the awareness raising and educational resources provided by the Grace Kelly Ladybird Trust, is helping to save lives.
"The Worcester City Run offers a fantastic fundraising opportunity for us and we're really looking forward to the 2018 event with an amazing team of 41 runners already confirmed.  Last year was the first time that the charity had runners in the event, and we were bowled over by the support that we received, both in terms of funds raised and around the streets of the city on the day of the event.The Worcester City Half Marathon and 10K hold particular significance for us because Worcester was the city whereGrace was born and raised, so to be able to have this number of people running in her memory on the streets she knew is wonderful."
To support the Grace Kelly Ladybird Trust runners in their fundraising bid visit: http://uk.virginmoneygiving.com/fund/gkltworcestercity10kandhalf.For more information about the Grace Kelly Ladybird Trust, visit www.gracekellyladybird.co.uk or email contact@gracekellyladybird.co.uk.