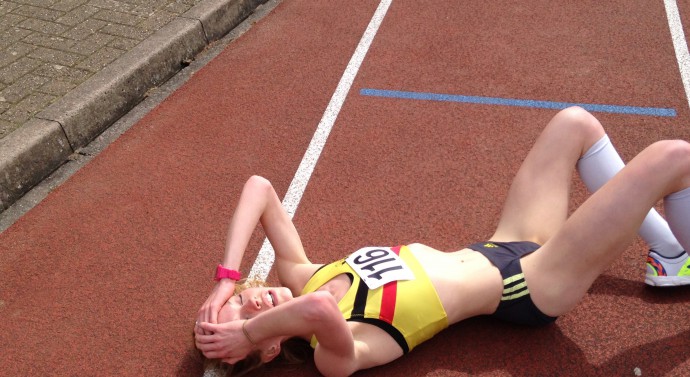 There is nothing more heart breaking than missing out on an opportunity you feel you deserve. The most upsetting fact is that even when you do everything that is required of you, fulfill all the commands and put yourself there – to be turned away without a specific reason or understanding as to why.. leaves you wondering is this all worth it?
To be so close to something, and to miss out is far more gut wrenching than being a few miles away.
To know that you've done everything you needed to do and achieve to gain a selection, yet you are left thinking how is this fair? If someone had said to me a year ago, I would be in the running for GB U23 selection I would have laughed. I'd have thought no chance… But to have qualifying times in two events, placed 3rd in both trial races and to be overlooked at the last hurdle, has left me pretty disappointed to say the least. At a time when there is a lot of negativity in the sport, you'd think that British Athletics would give the opportunity of competing for your country to as many people as possible. For someone like myself (and most athletes out there..) when you work so hard for something, you cant help but feel slightly miffed when this is the outcome.
At the time of writing, I am upset. In fact, I am more angry and disappointed in myself, and I feel I have let all the people who have helped me down. I have been so so lucky to have been given so much help and support over the last months to get me to where I am now, and I'd have loved to have thanked them by wearing my first GB vest, but alas that isn't to be. I am usually a positive girl, and would perhaps provide some motivational quote at this point, but I don't feel that would suffice. This is a moment in time I am going to have to get over, but I feel it may take a while.
This is not by any means a moment where I am giving up on my dreams though, if anything I am going to fight even harder for them. I really am going to leave it all on the track, road, grass, mud or where ever it may be. I have been knocked down many a time over the last decade for a number of different reasons. Each time I have risen again and got myself back on my feet. I can do it again and I will…
I am so passionate about this sport that I don't think I could ever hate it. I certainly don't like all the policies and the way federations go about things, but fundamentally I love the sport and the athletes that are involved. For the moment though, I am going to have to tell myself that getting out on the track is still worth it. I know deep down that if I didn't get out on the track I'd be gagging for it after about a day… I just love it too much! This hurdle of disappointment is like the height of the mens 110m hurdles, and for a girl who is only 5ft 3, it's massive. It is going to take a lot of climbing, some bravery and bit of time to get over them, but what doesn't kill you makes you stronger, and I truly believe this to be true.
You still need to put things into perspective, even at times when you feel hard done by. Saying this is way easier than doing it though. And sat here with a couple of tears rolling down my cheeks, just proves to me how upset I really am about this. As I said this really is going to take quite a bit of climbing, but I still need to be grateful. I'm able to run at the end of the day. I am able to get out and live as freely as I wish. I have the most loving, kind and supportive family, friends and associates. I have a coach who believes in me, stands by me and is with me every step of the way and these are the most important things. Looking at the bigger picture is something you have to do through out life, not just in sport, but in all aspects. It isn't just about the here and now, it is about the future too. Rome wasn't built in a day, and your life doesn't have to stop when one thing doesn't go the way you thought it would. I could go on and on about this, but I think I should stop myself before I go crazy!
There was so much I wanted to write in my blog this week, but I am going to leave it until next week now, and hold you all in suspense! As for me, I'm going to get out in the sunshine, run some miles and keep a smile on my face.
Someone told me to get angry and then get even… thats the plan ;).
That's all for now,
I hope to see you all out there in the sun!
Jen xx @jennynesbitt
PS – I just want to thank everyone for their support over the last few days – it means the world to me and gives me faith that I shall bounce back!