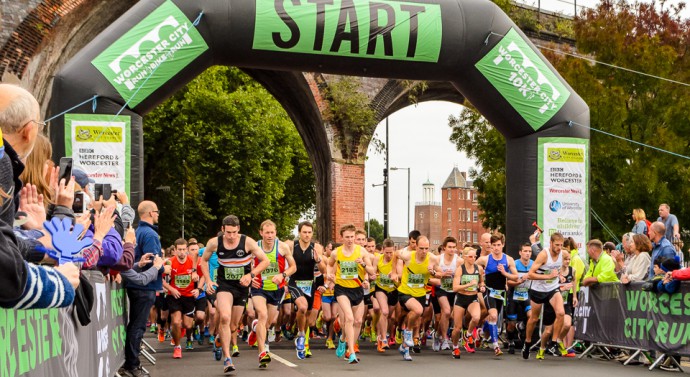 Glorious sunshine and big crowds greet the Worcester City Run events
News, Recent News
18th September 2016
Comments Off
575
Sunshine and big crowds welcomed participants in this year's Worcester City Run events today.  Over 3,000 competitors signed up for the Worcester City 10K, Run-Bike-Run and Young Athletes Run, more than in either of the previous two years in which the event has been held.  Thousands of spectators lined the city's streets to cheer on the runners and cyclists in the Worcester City Run events, which were organised by Steve Cram's Events of the North company, in partnership with Worcester City Council.
Once again, the Worcester City Run was able to attract high profile participants, including former Team GB track star Jenny Meadows and BBC Breakfast TV presenter Louise Minchin.  Jenny Meadows tackled her first road 10K since retiring from track athletics and was the second lady to finish, while Louise Minchin completed the cycling leg in a Run-Bike-Run team.  They lined up alongside leading club athletes and fun runners raising money for good causes, including the event's official charity partner Barnardo's, which is celebrating its 150th anniversary this year.
The Worcester City 10K was won by Graham Rush of Cheltenham Harriers in 30 minutes and 23 seconds.  His club mate John Parker was second (33:27), with Tom Stock of the University of Warwick third (34:08).  Winner of the women's race was Kate Hulls of Bristol and West AC (33:44), followed by Jenny Meadows of Wigan & District Harriers (36:38) and Zoe Wassell of Stroud & District AC (36:46).  Winner of the 10K wheelchair race was Ed Grazier of Cheltenham Harriers (32:36).
In the under 11 Young Athletes Run over one mile, first boy was Benedict Clarke in 6:56, followed by Linus Burnage of Worcester AC (7:04) and Adam Molineux (7:32).  First girl was Lucy Hatfield of Bromsgrove and Redditch AC (7:18), with Ellie Harle in second (7:54) and Isobelle Yarwood third (8:19).
For the second year in a row, it was a clean sweep for Worcester AC in the boys' under 16 race over 3K, with George Beardmore first (10:29), James Vaughan second (10:42) and Ben Harle third (10:48).  First girl was Jodie Ruane of Worcester Tri Club Juniors (11:10), followed by Natalie Hatfield of Bromsgrove and Redditch AC (11:20) and Elizabeth Marshall of Wolverhampton & Bilston AC (12:15).
The men's Run-Bike-Run (10K run, 25K cycle, 5K run) was won by Christopher Silver of the University of Birmingham in 1:34:19, followed by Jonathan Barnes of Cheltenham Harriers in 1:34:33 and Matthew Hallam in 1:35:03.  The women's race was won by Naomi Eaton of Stoud in 2:00:36, with Claudia Wilesmith in second (2:02:26) and Sarah Wheeler of Stratford Upon Avon AC third (2:02:55).  First team home was Team Echelon (Daniel Geisler and Joel Turvey) in 1:36:42, followed by Training For Warriors (Anthony Taylor and Andrew Bailey) in 1:43:31 and Jacamo!! (Mat Everest, Lewis Roberts and Greg Everest) in 1:44:53.
Event founder Steve Cram comments:

"It has been brilliant to see this event grow over the last three years and firmly establish itself on the sporting calendar in Worcester and the surrounding area.  As has become customary, the people of Worcester provided fantastic support to everyone who took part and the city is a wonderful backdrop for races like this.  Once again, Worcester delivered glorious weather and the crowds around the course were bigger than ever and hugely enthusiastic.

"I was very pleased to witness some very keen competition at the sharp end of the races, but it was the thousands of other participants who tackled their own physical or charity fundraising challenges who really made the day special.  Congratulations to all of them and huge thanks to the many volunteers, and to Worcester City Council for hosting the event and giving it so much support."
Cllr Adrian Gregson, Leader of Worcester City Council, comments:

"The Worcester 10K race has quickly established itself as one of the city's most popular annual fixtures, and we've been proud to support it from the outset.

"It's great to see Worcester hosting big participative sporting events such as this.  We are confident that the Worcester 10K will continue to attract even greater numbers of participants and spectators in years to come."