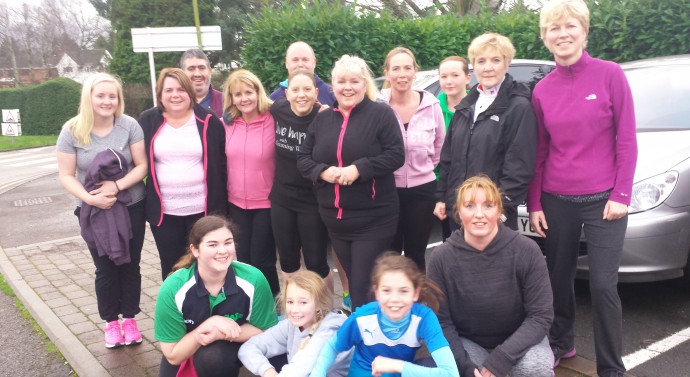 Busy Worcester Mum Julie Bond has found herself at the front of a very inspiring group of runners who have targeted this year's Worcester City Run.
Passionate runner and leader Julie answered our Q&A and told us for her, there is no better "me time" than running.
Tell me about yourself Julie!
I'm a 44 year old mum who lives in Worcester, with an 11 year old daughter. I started running four years ago, inspired by the London Olympics, starting with the Coach to 5k programme on an app. Running didn't come naturally to me and so I vividly remember how hard those first few months were, not really knowing how to find out the answers to my many newbie questions. Running provides a rare but valuable bit of 'me time' and opportunity for reflection as I try to balance a busy role in a utilities company and being a mum. I'm not a fast runner however I enjoy pushing myself to be the best I can be.
Tell us about the group that you run… 
In 2015 I decided to train for a marathon but felt being a couple of stones overweight was impacting my training. So I joined the local Slimming World group and was immediately stunned by how friendly and supportive everyone was. At the same time I qualified as a Leader in Running Fitness and began to wonder if anyone in my group would be interested in starting a Couch to 5K programme as a New Year's Resolution to assist their weight loss. I was bowled over by the response – so many members said they had always wanted to run but had never felt confident enough to go out on their own, as they feared they might be laughed at. So, this January, with an atmosphere of incredible trust and a lot of nervous energy, 15 people of all ages and sizes bravely set out for what for many was the first exercise they had done for years. By Easter, and through an amazing amount of dedication, training and teamwork, every single one had run 5k and we celebrated with a lot of hugs, tears and a well-deserved medal ceremony.
What are some of the inspirational stories of the runners?
I've been overwhelmed by how many of my group have said they always wanted to run, but never really felt they could. They often tell me they just needed someone to believe in them to help them take that first step. As Rachel Southwick, one of the first group says " I never thought I could run for more than five minutes until we ran together as a group and I realised the only thing stopping me was the barrier in my mind". The pride upon reaching running milestones continues to be infectious and many say this new found confidence has spilled into many other areas of their life, growing their self-esteem through achieving a goal they never felt possible.  I feel immensely privileged to have been part of that journey, and working with these groups rewards me so much more than just running myself.
What has their journey been? Couch to 5K and beyond?
I think it's fair to say the group is now addicted to running! They are all running further and faster, and have set their sights on the Worcester 10k as their first race. They still train together on a Saturday morning and are fantastically supportive of each other. Through popular demand, inspired by the success and incredible weight loss of the original group, I have now started a new C25K group. The new group are also starting to gain confidence and a love for running, with many of them having already entered the Worcester 10K. It's wonderful to watch the joy for running blossom and hence I have also set up an improvers group. This will focus on getting the 20+ members entering the Worcester 10k in peak form for 18th September through techniques such as hill and interval training. I'm really looking forward to seeing the improvements more advanced coaching will bring, although it is all too easy to forget they only started running this year!
Why choose Worcester City Run as their target?
After racing in both the previous Worcester 10k events, I am passionate about this wonderful, local run. It is perfect for a first race….fast, flat and incredibly well-organised with fantastic on-course support. The beautiful scenery around the river which forms part of our normal training runs makes it even more appealing.  Once the group realised 10K was achievable, the Worcester 10K was a natural target for them to aim for. It will be a proud moment when our Slimming World running group graduates are awarded their medals at the end of the race, and I hope it inspires yet more slimmers to get involved in my next C25K course!
For more information please contact https://www.facebook.com/Mattsslimmingworld/ orjulierunningcoach@gmail.com
"I would say if you think you want to start running, don't let your age, fitness or size hold you back. My groups have proved that through taking your time and following a proper programme this could be the year you achieve your dreams too. Running really can change your life in so many ways."