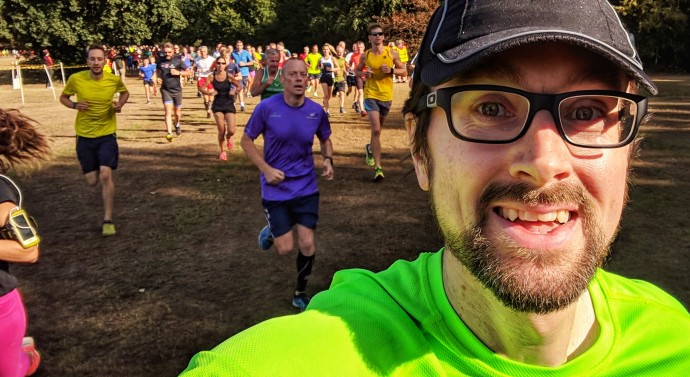 Just a few days to go and EOTN Ambassador Chris is making his final preparations for the biggest weekend of the year!
"The Worcester City Run is now only days away and the news is out that the junior runs and the 10k run are all full – it's going to be a terrific year, I can feel it. As you make your final preparations for the event I hope you are all as excited as I am? I've had a good lead up in training these last couple of weeks, smashing out a course PB at Worcester parkrun the other Saturday (by around 45 seconds) and feeling strong during my mid-week training runs. I had a slight blip last weekend as I felt like I was coming down with a cold, but I hope to have just kept that away. In the last couple of years I've been tremendously frustrated by illness just before events I've entered, so if you've not been well recently or are currently suffering I definitely feel your pain.
Today I've got my final interval run, with a couple of easier runs / jogs before Sunday's main event. If you're about this Saturday morning I'll be down at Worcester Pitchcroft parkrun, potentially doing my final jog there, so do say hi if you're reading this and come down too.
So a quick note about parkrun – what a terrific thing parkrun is isn't it? I don't run it particularly regularly due to other commitments and scheduled training sessions, but when I go I always return with a smile on my face. The sense of community or even family that exists within parkrun is tremendous. Every time I go I see people encouraging each other and helping each other to walk / jog / run their way around the course both young and old. Then there are all the fabulous volunteers who make parkrun possible, cheering on, marshalling, token scanning, setting up and packing away etc. I'm so very grateful for parkrun and all who are a part of it (all 1.75 million of you!). If you've not been to a parkrun, why not?
Talking of volunteers – the Worcester City Run could not take place without an army of volunteers either. So a big THANK YOU to everyone who has volunteered to help run the event. Give your friendly volunteers a wave / thumbs up as you pass (if you're not too exhausted!) and I hope you get a warm reception from my friends at All Saints Church who are manning the Diglis water station this year.
I hope your final few days of preparations go as planned, but don't fret if they don't. Look to enjoy the day whether you are running for a personal best, for fun, for charity or any other reason. The crowds will be amazing as always. The weather will be amazing as always! And during the run it can often be helpful to remember why you're running, so thinking back to my intro blog… I'm running for all the cake I'll be eating afterwards!
See you on the start line…