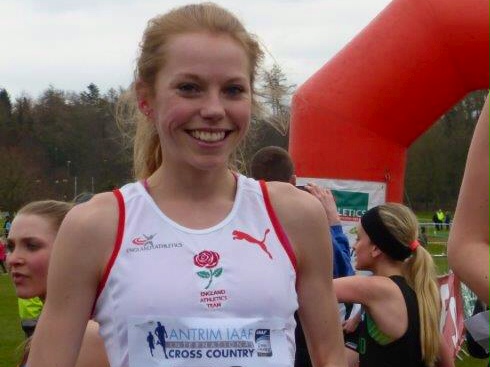 Jenny's Jog Blog: Home counties and daytime TV
Nesbitt's Nibbles
20th March 2015
Comments Off
393
Hope you are all getting on alright and that you have entered (or in the process of entering!) the Worcester City 10km. I always find it is good to enter races a while in advance as it gives me something to aim for and work towards, meaning my motivation always stays high!
 I'm excited at the moment as the clocks are soon to change and the days will get longer… and hopefully warmer (although that part is more unpredictable!). This means I can get out earlier and stay out later, the perfect running combination and opportunity to tie your laces before or after a long day at work…what else could you want?!
For me, the cross country season is over. The last 6 months have flown by, but it was nice to end on a high in Ireland at the Home Counties International cross country over the weekend (14th March) running for England and getting individual 2nd and team gold.  I am now enduring the 'easy' week which I have mixed emotions about, but know will benefit me over the summer.
I am now looking forward to building on my speed and tackling some new summer sessions. It's strange thinking about the next six months, but I can assure you they will fly by. It is good to get an idea of your targets and what you want to get out of yourself. I've always been told that each person's targets are individual to them and so you should never compare with others… Remember it's what YOU want!
Whether you are targeting a top 10 position in the Worcester City 10k or getting around the course without walking, each achievement is just as big as the other, and you should be proud and content with yourself to reach a goal. So set those targets now, accept the challenges and embrace the future with the positive attitude.  Remember the body can only achieve what the mind believes!
For me, I'd love to say I'm off for a run… But I'm sat resting watching some good old day time tv!! Until next time,
Jenny xx
@jennynesbitt