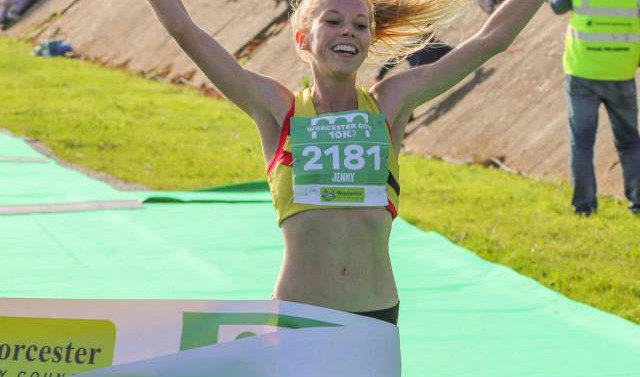 Hi everyone! I guess I should start by introducing myself really… They always say its a good place to start! My name is Jenny Nesbitt and I am 20 years old. I'm a Worcester girl and a running fanatic. In fact, when I say running fanatic, I mean I'm the one you will see running up and down the same hill, time and time again, wind, rain or shine!
A little bit about me… I went to RGS Worcester (any of you from Worcester will know this is the better school!) during my schooling years and was fortunate enough to be introduced to running or should I say persuaded, when I was about 15. But what they say about the 'Running Bug' is true and once I started I couldn't stop! I just couldn't get enough and this led me to join Worcester Athletics Club where I met my current coach Dave. Ever since then I've been hooked, racing all around the UK and even in Europe, having been provided with many fantastic opportunities.
So as you can guess, when I found out Paula Radcliffe (my long time hero!) was coming to run in the Worcester 10km last September, I used every persuasion trick I knew to convince my coach this was a race I was entering. Thankfully, the many English language lessons paid off and I got him on my side.
Trainers on, number pinned, hair tied back, I stood on the start line next to Paula, who towered over me (I'm only 5'3!) as I prepared to run my first ever 10km race! The atmosphere was amazing and there was a real buzz, and when the gun went all I could hear were the screaming crowds and the friendly cheers! The beautiful course (you pass the County Cricket Ground, the Cathedral, Cobble Streets, the Racecourse and wind along the River Severn) and the amazing numbers of spectators meant the 34 minutes and 21 seconds flew by, and before I knew it I was crossing the line, raising my hands up in the air as I broke the tape… OH..MY..GOSH, I'd beaten my hero!
The moments after the race are a blur.. I remember talking to the Worcester News and the BBC, catching up with Paula and receiving my prize. But I do remember the look of accomplishment on all the finishers faces and the immense pride a lot of people had, as well as the tough looking lot going off on their bikes as they endured the Run Bike Run (and I thought I was crazy…!)
Since the Worcester City 10km I have been up to quite a lot… so I wont bore you with all the boring stuff! I have been so lucky to receive so much support from the people of Worcester and it still amazes me today that as I run around the streets people recognise me and give me the 'runners wave'.
I have competed for my country a couple of times, won my first senior XC race, gained a few more medals and covered myself in mud at the National XC Champs to name a few things. I have also accepted my place at Bath University to study Sports and Social Science starting from September (exciting times ahead..!!!!).
Not only that though, but I have had financial support from Sport Worcester, physio from 206 Physio Therapy and kit from Runaround sports, all of which have played an important part in my achievements over the last 6 months! I couldn't recommend 206 Physiotherapy or Runaround enough, especially for any local Worcester habitants; elite or beginner, Mo Farah wannabe's or just those going after their own goals, the advice and support is amazing. I was also delighted to attend the launch of the Worcester City 2015 event alongside Steve Cram.
So I guess that is me in a nutshell… Crazy, blonde, short and heavily obsessed with all things running! I hope that I can use this blog over the next few months to keep you updated as to what I am up to, my training and races as well as giving you encouragement and tips to get ready for the Worcester City 10km on September 20th (there shall be no excuses!!)
 As for now I am off on a run, so see you all later… or maybe along Tything!!
Jenny xx
Follow Jenny on Twitter @jennynesbitt and Instagram @jennynesbitt1