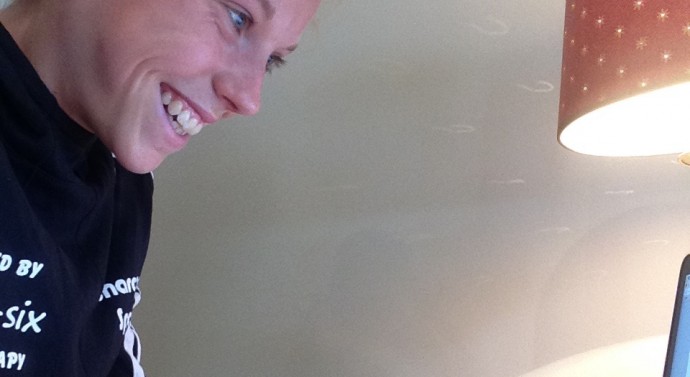 Which fellow athletes inspire you and why? from Julie Bond on Facebook
Every runner is inspired by Paula Radcliffe, and I am no different. She has achieved incredible things over her career, which are yet to be challenged and her dedication and passion for the sport speak wonders!
As for current athletes. I am surrounded by girls with amazing talent and as a country we are in a really fortunate position where there are a number of current Under23 and Junior girls of all who can inspire us. This inspires me to work harder and train smart to ensure I am up there with them and able to help promote the next generation of top class distance runners.
If you weren't an athlete, what would be your dream job? from @enigmagirl81
This is a tricky question! If I wasn't an athlete I think I would like to invent the flying car, as I hate sitting in traffic, especially in Worcester! In all seriousness though, my dream job would be to create a fitness business helping to promote healthy lifestyles, as I think this is so vital to living life to the full. If not that, then I'd love to go into Journalism. As for the flying car though, never say never!
What's your favourite running quote or mantra? via Facebook
I guess the classic runner quote is "go hard or go home" and I reckon this sums up the majority of what goes through a runners minds. But a few of my favourite include:
"Shoot for the moon. Even if you miss it you will land amongst the stars"
"There is no such thing as bad weather, just soft people"
"He who is not courageous enough to take risks, will accomplish nothing in life"
What's your favourite training session and location? @neilJwatts
There are so many sessions that I enjoy doing so this is a tough one! But I love long sessions where I can really get my head down and into a rhythm. A couple of my favourite sessions include 4 sets of 800,400,800 on the track and 4 x 2.5 km around the woods. I also love a long run on a Sunday, especially if I can get to the country and run along the quiet lanes. As for a location… I should really say Worcester as this is where I do the majority of my training, but along the coast in Spain was my all time favourite location.
What are the three bits of kit you can't live without? via Facebook
Can I only choose three…!? I have to admit I am a massive fan of any sort of kit related to running. But I guess the essentials…. Trainers are a must! Without those I wouldn't get very far, so I guess I cant live without them.
My Garmin is another thing I don't think I could live without! Is it sad that I like to look back at my runs after a session and analyse the pace, my heart rate and cadence?!
Finally, I think I'll have to say my rucksack. For anyone who knows me, it is totally personalised to me. I seem to find myself clipping, pinning and sticking all sorts to it, and although it probably adds a kilo or so to its weight, I couldn't live without it! I guess it is a lucky charm in a kind of way.
What distance do you think will be your strongest in the future? @samlloydperks
I seem to be leaning more and more towards the longer stuff, but I cant see myself running further than a half marathon. I really enjoy the training required for 5 and 10km, so I reckon thats what I will focus on in the future. I would love to run a really fast track 5 and 10, as well as set some speedy times on the road! Of course, you can't forget cross country either, and although I find myself feeling the cold throughout the whole season, I do love the challenge of running over the country.
Do you have any pre-race rituals or superstitions? via Facebook
I do some very strange things before a race, but I am sure that everyone has similar routines right!? One thing I do on the morning of a race is stick my legs up in the air for a few minutes, before moisturising them. Don't ask my why I do this, but all I can remember was being told to do it once when I was little and it has stuck with me ever since!
I also seem to find myself stopping at every service station on the way to a race to go to the toilet, irrelevant of whether I need to go or not! Trying to have a conversation with me before a race is also quite a difficult task as I seem to ignore everyone or provide one word answers… I promise I'm not being rude!
Finally, I have to eat 2 hours before I race, and this has to include Soreen (preferably of the Banana kind..) and usually some cereal.
Did you know you could/would beat Paula Radcliffe in the 2014 Worcester 10k? @chipsSW
Going into the Worcester 10km I was so excited to be stood next to Paula on the start line that beating her never crossed my mind. In fact, I said to my coach a few days before what he thought my chances where of beating her and his reply was "only if both her legs are tied together". So no, I had no idea that I could or would beat Paula, and it was an immense shock to do so!
How do you overcome setbacks such as injuries or disappointing performances? @enigmaboy77
Overcoming setbacks is something that I have had to learn to do. It is true what they say though, and every set back makes you stronger… and wiser (even for a blonde girl!). You have to try and remain in a positive mindset and think about all the things you are still able to do. Use the time to give your body a break from running and instead try out some new training methods in the gym. Look ahead to the future, and try not to dwell on your current situation. Use the new knowledge you have to help make you a stronger athlete and prevent future injury, but most of all make sure you keep smiling!
After a disappointing performance you can feel awful. You have trained really hard, felt really good in training and did everything right until the start of the race, but yet you still don't perform as well as you think you should. Do not let this de motivate you, but instead use it as fuel to give you the extra boost the next time you get on the start line. Everyone has bad races, this doesn't mean you are a bad athlete! 
What's your favourite post-run treat? via Facebook 
A personal favourite of mine is granola, greek yogurt and fresh fruit. I love this combination and it provides me with the relevant carbs, proteins and fats that I need to recover after a session. Over the last year I have become more aware of how important it is to fuel yourself adequately to allow yourself to train accordingly, so trying out some new post run treats is still something I am working on, so any ideas would be appreciated!
Thanks for your questions,
Jenny xx @jennynesbitt