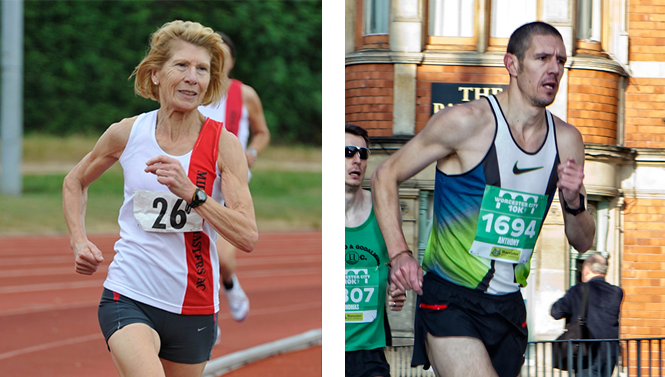 Leading veterans sign up for the 2015 Worcester City 10K
Worcester City 10K
22nd July 2015
Comments Off
645
Two of the UK's best veteran athletes have signed up to take part in this year's Worcester City 10K race, including a world record holder.  Anthony Whiteman and Angela Copson will both line up on Sunday 20 September, joining other leading runners such as Jo Pavey and local star Jenny Nesbitt.  Whiteman and Copson regularly win medals in the increasingly popular 'masters' athletic events in the UK and abroad, and have set world best times in races.  The Worcester City 10K is being organised by Events of the North (the company run by Olympic medal winner Steve Cram), in partnership with Worcester City Council.
At 43, Anthony Whiteman continues to perform at the highest level and recently made it to the final of the 800m at the British Athletics Championships in Birmingham.  Ahead of Worcester, he will be competing in the World Masters Athletics Championships in Lyon, where he will tackle the 800m and 1500m events.  Whiteman ran in the first Worcester City 10K last year and was joined by other members of his family.  He is relishing the opportunity to return.
Anthony Whiteman comments:

"I am looking forward to returning to the Worcester City 10K as again it will be a family event for me, with three generations of Whitemans running.  The course includes one of my favourite running routes along the Severn – it is a great event on many levels."
Angela Copson is 68 and only took up running seriously at the age of 59.  She demonstrated great talent very quickly and has gone on to become one of the most successful masters athletes in the world.  In May, Copson set a new world record for over 65s in the 10K in Manchester, and is also a former marathon world record holder for her age group.  Like Whiteman, she will be competing in Lyon in August, before returning to the UK to focus on road racing again.
Angela Copson comments:

"I'm really excited about running in Worcester.  I've heard great things about the event – I'm told that the route is lovely and that the enthusiasm of the spectators really spurs on the runners.  And of course, the fantastic Jo Pavey will also be there, so I can't wait to run in the same race as her."