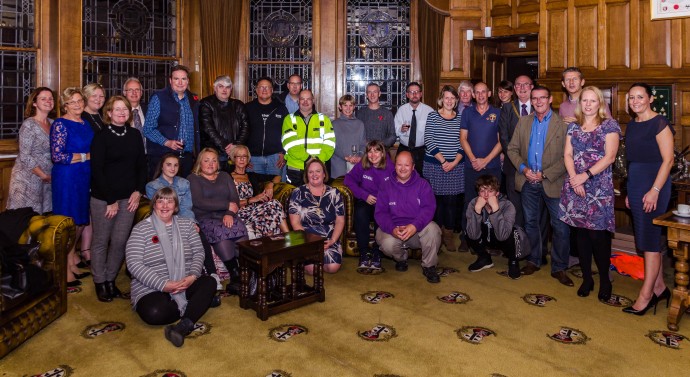 Mayor raises a glass to volunteers who made the Worcester City Run possible
News
3rd November 2017
Comments Off
103
The Mayor of Worcester has hosted a special reception to thank the volunteers who made this year's Worcester City Run possible.  Held at the Guild Hall, the occasion saw Cllr Steve Mackay and race founder Steve Cram meet volunteers as they enjoyed refreshments and the chance to mingle and reflect on this year's Worcester City Half Marathon, 10K and Young Athletes Run, which saw a record number of runners take part.
The 2017 Worcester City Run events took place on Sunday 17 September, with 4,000 runners entered across the three events, including multiple Paralympic gold medal winner Baroness Tanni Grey-Thompson, 401 Marathon man Ben Smith and local athletics star Jenny Nesbitt.  Over 150 volunteers were involved in this year's races, fulfilling a wide variety of roles, including marshalling, packing goody bags, handing out water and finishers' medals, and supporting runners in other ways.
The Mayor of Worcester, Cllr Steve Mackay, comments:
"The Worcester City Run has become a major fixture in our city's sporting calendar and it wouldn't be possible to hold such a successful and popular event without the support of the army of volunteers who help make it happen. On behalf of the runners and the city, I'd like to give heartfelt thanks to everyone who volunteered for this brilliant event."
Steve Cram adds: "These events are entirely dependent on the help and support of the volunteers – if we didn't have any they simply wouldn't happen.  We're hugely grateful to everyone who contributed and this reception is a lovely way to acknowledge their role and meet some of them in a slightly more relaxed setting!  We were delighted with how everything went this year and are already looking forward to another successful Worcester City Run event in 2018."
Barry Macgabhann has been a volunteer at every Worcester City Run event and was there again this year, with his partner Helen and son Cian.  He comments:
"It was a pleasure to yet again volunteer at this great event for our city – particularly pleasing for me was how well received the half marathon was by both runners and locals alike.  I loved how the residents out near Lower Broadheath complimented both the volunteers and organisers for staging a fabulous event."
The Worcester City Run will return in 2018 and details will be released in due course.  To find out more about the Worcester City Run events, visit www.worcestercityrun.com.
Worcester City Run volunteer images by Dave Dunbar