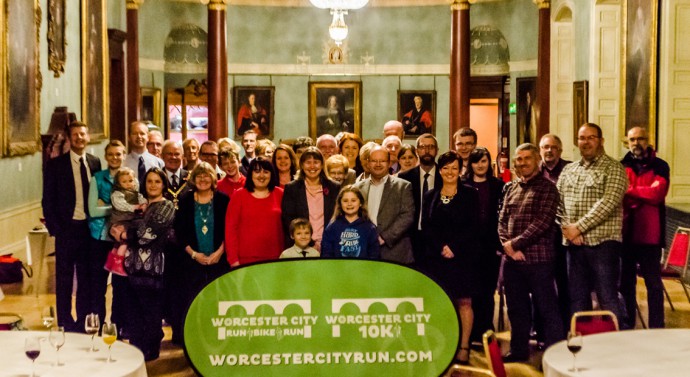 Mayor thanks volunteers who kept Worcester City Run events on course
News, Recent News
29th October 2015
Comments Off
132
Volunteers who helped make this year's Worcester City Run events a big success have been thanked at a special reception in the city.  Hosted by Mayor of Worcester Roger Knight and race organiser Steve Cram, the event was held in the Guild Hall on the evening of Tuesday 27 October and was attended by around 40 volunteers.
Over 2,500 competitors lined up for the Worcester City 10K, Run-Bike-Run and Young Athletes Run on Sunday 20 September, representing an increase of over 50% on last year's field.  The growth of the event meant that more volunteers than in 2014 had to be recruited to help on the day.
Steve Cram comments:

"We couldn't hold races like the Worcester City Run events without the contribution of loads of volunteers and we felt it was important to thank them in this way.  The Worcester City 10K, Run-Bike-Run and Young Athletes Run grew significantly this year, so we needed even more helpers than in 2014.  The people of Worcester came forward and really got involved with great enthusiasm.  Many of those who took part in the races have commented on how much they appreciated the support of the marshals and other volunteers around the course.

"Volunteering is a great way to get involved in a big event and we hope that a lot of our helpers this year will return in a similar capacity in 2016.  Of course, some of them may want to take part in one of the races next year, so we'll also be on the lookout for new volunteers to get involved."
Roger Knight, Mayor of Worcester, comments:

"Over 150 people volunteered to make the Worcester City Run a huge success – it was a remarkable event and a great day.  It made me proud to be a part of this vibrant city that is building such a strong reputation for hosting first class sport events.  On behalf of the city, I want to thank every one of them."
Worcester resident Barry MacGabhann, 55, has volunteered at the Worcester City Run events in 2014 and 2015.  He adds:
"The experience was fantastic – I was stunned and surprised at how many people who I'd never met in my life thanked me for my help.  Tired though they may have been, everyone seemed to express their gratitude.  I really recommend volunteering during the Worcester City Run events and I will be signing up again next year."
The Worcester City Run events are organised by Steve Cram's company Events of the North, in partnership with Worcester City Council.  Next year's races will be held on Sunday 18 September.