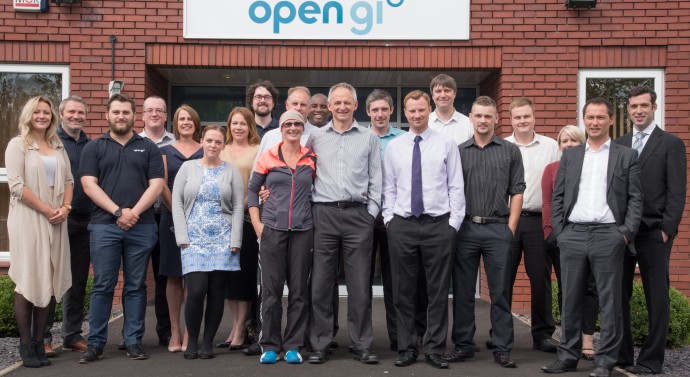 Open GI team to tackle 10k
Runner's Stories
2nd September 2015
Comments Off
1012
Sporty Dave Fox from Worcester is gearing up for the Worcester City Run for a very special reason, and he will be joined by a team of colleagues from Worcester-based technology solutions provider, Open GI. The team will be running for their chosen charity The Worcestershire Breast Unit Campaign.
50 year old Dave is taking the challenge along with his workmates this year in support of Di his wife of over 21 years. Di, a personal trainer, Pilates instructor and coach at the University of Worcester Badminton Performance Centre was recently diagnosed with breast cancer. Di had been due to run the Worcester City Run 10k and instead transferred her number to Dave.
Dave told us:
"We are both very active and have a passion for sport. We play competitively at league and county level in Badminton & Tennis for Worcester clubs."
Dave describes himself as typically not a runner, but said was determined to do this and decided to gather a team of fellow work colleagues to join him in the 'fun' and help raise awareness and money in the process.
To date, they have a team of over 25 willing volunteers who will be fundraising and running for this fantastic cause.
The Worcestershire Breast Unit Campaign seeks to fund the establishment of a new, dedicated Breast Unit at Worcester Royal Hospital for use by women and men across Worcestershire for all breast related issues. For more information, check out their website http://www.everybodyknowssomebody.co.uk/
Dave and his team said the decision to run the 10k for the Worcestershire Breast Cancer Unit was simple. Firstly, Di's recent diagnosis and treatment; also a close friend and colleague was diagnosed last year and has now completed her treatment and is recovering well. Finally it is Open GI's chosen charity of the year, of which all fundraising is matched by the company, doubling all monies raised.
Dave said:
"Di is a strong willed 'superstar' currently out of action due to being on the treatment table. She is overwhelmed by the charity fundraising efforts of the Open GI 10k team in supporting the fantastic work of the Worcestershire Breast Care Unit"
Good luck to Dave and the Open GI team and very best wishes to Di from all at Worcester City Run.
To donate to Dave and his inspirational team, please click here http://www.justgiving.com/Dave-Fox10k