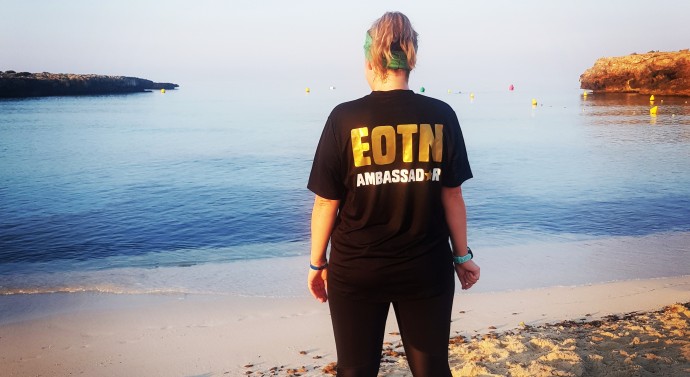 Events of the North Ambassador Bernice has had her fair share of extreme weather training this year. While the heatwave has ceased for now, Bernice tells us everything she has learned from running in the hottest summer since her running began! 
"This year for me started off with training and completing my first marathon-  London Marathon.  It was week after week of a new mileage milestone.  I quickly learnt that training for a Spring marathon meant going out in all types of weather, braving the dark, frosty, wet and snowy conditions at times.  Sometimes it just wasn't safe to run and that was so frustrating.  I did 18 miles one day on my own up and down a tow path to get the mileage in safely and a practice race- Fission 20/20 in very wet conditions which included me falling neck deep into a bog after losing my feet at 6 miles. Figured if I could run 20 miles in those conditions by the London Marathon I could add 6 miles on this in better spring like conditions?!
However, the one thing training in these conditions had not prepared me for was a heat wave in April which meant I ran the hottest ever on record London Marathon.  I embraced it however, decided that I has longed to run in the sunshine for months and pictured running through a sunny London so many times.
I did A LOT of research and asked running friends and club for advice. We were sent an email from the organisers too.  The below helped me complete my first marathon, and continue to run through the summer during the hot weather as well as on holiday last week in Menorca!
Change your goal and slow it down!!  I think this one is the most important! Take walk breaks if you have to to cool yourself and reduce your heart rate a bit.  I always run slower in the heat.  My marathon time was slower than I wanted because I had to be sensible and I wanted to finish it.
Hydrate- I don't mean 10 minutes before you go running I mean especially the day/evening before . Generally I try and drink at least 2L of water or sugar free squash a day but increase this before a run in heat/long run.  Prior to longer runs I use rehydration tablets and have two the day before also.   I have learnt that drinking too much immediately prior to running actually just makes me want to wee 2 miles into it and can be uncomfortable.  I take water on whilst running anything over 6 miles.  I always have a bit of money in case I need a drink from a shop too.
Wear appropriate clothes- as little as you can- lightweight  vest shorts and hat if you can run in shorts without too much chafe- I like my ¾ thin new balance capris.  A lot of people at the marathon panic bought shorts and vests they hadn't trained in and I saw a few sorry thighs.  If it's new try it out on a shorter run first!
I also wear a buff as a head band as I'm a bit of a sweaty betty in the hot weather! That seems to keep me cool and stop sweat in the eye as the temperature increases.
Go early if you can or later in the day, avoid midday!!!- on holiday I would get up as the sun was rising and go then.  It's hard to be motivated to get up some mornings but I have never regretted an early morning run! And it is defiantly cooler!
Water poured on neck and pulses – I did this throughout the London Marathon and Worcester half and it really helped.  Theory is it cools your blood flow back to your heart.
Try and run in shade where possible it is noticeably easier.
Wear sunscreen- P20 is the one! It is invincible!!
Hope this helps during the last bit of summer.
I ran 5 miles pre work today steady as I have a 18 mile run with a club friend on Saturday, for once the weather doesn't look too hot for it but I will prepare as it will still be over 20 degrees by the time we finish..
After this race the next one I have is Worcester City 10K.. I can't wait!
Bernice x
@bernijadekent