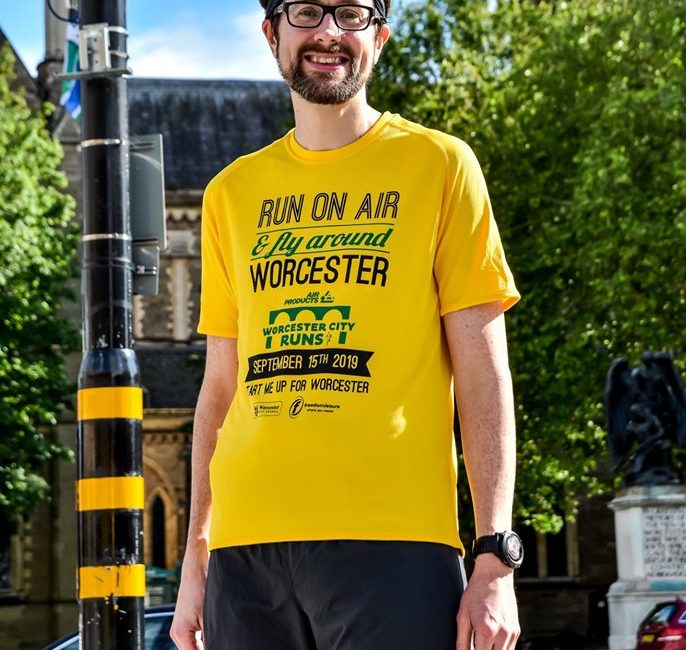 "Hi, I'm Chris Pettifer, aged 41 and I work as a Software Engineer. Originally from Surrey, I have lived in Worcester with my wife for the last 10 years or so and we love it. I was so excited to be asked to be an EOTN Ambassador… again! It was the highlight of my year last year, being able to share my journey to the Worcester City Run 10k and I'm looking forward to sharing more as I prepare for my first proper effort at a half marathon this year.
The Worcester City Run is such a special event for me as it was the first ever event I entered back at the very first one in 2014, having only started running a year earlier, and I loved it. I've run it (as well as the run-bike-run a couple of times) every year since setting a PB each time I've run the 10k! The organisation is brilliant, the route fast, flat and scenic, and the support is terrific; the cheer as you hit the bridge just before the finish is a particular highlight.
Running is so important to me. It means that I get to eat more cake(!), but more importantly, it gives me opportunities to switch off from what's going on in my day and enjoy the hour or so I'm normally out for. It's good for my mental health, particularly in the darker months, as I suffer from seasonal affective disorder and can struggle in the Winter, but running has really helped with this.
As well as running I also cycle quite a bit and in the summer months, I cycle in a number of local club time trials. I have also entered a number of duathlons, which are fun, but incredibly hard, particularly on the final run. This year I have finally entered a triathlon and I'm looking forward to ticking it off my list of things I've wanted to do. However, I really am still a beginner swimmer, but we'll see how I get on.
This year I am particularly looking forward to running my first "proper" half marathon at the Worcester City Run. I actually completed the Birmingham half marathon last year, but it was a somewhat different experience as I was raising money for Acorns Children's Hospice and I ran it dressed as Alex the Acorn! This is really a step up for me in distance and hopefully part of the way to running even further as I'm looking to hopefully run my first marathon next year.
My highlight of 2019 so far was definitely being at the London marathon. I had the opportunity to be a volunteer as part of the finish line team there and it was such an inspirational experience. Seeing close up how incredible the elite athletes are and how much they give to their running (the answer is everything) really made me want to give it a go and also inspired me to train harder. But also being there as so many thousands of people finish, having run for so many different reasons, raising money for charities, achieving their goals, completing promises made, was something I won't forget.
Whether you're a seasoned runner or entering your first event like I was in 2014, I look forward to sharing my journey to the Worcester City Run half marathon this year."