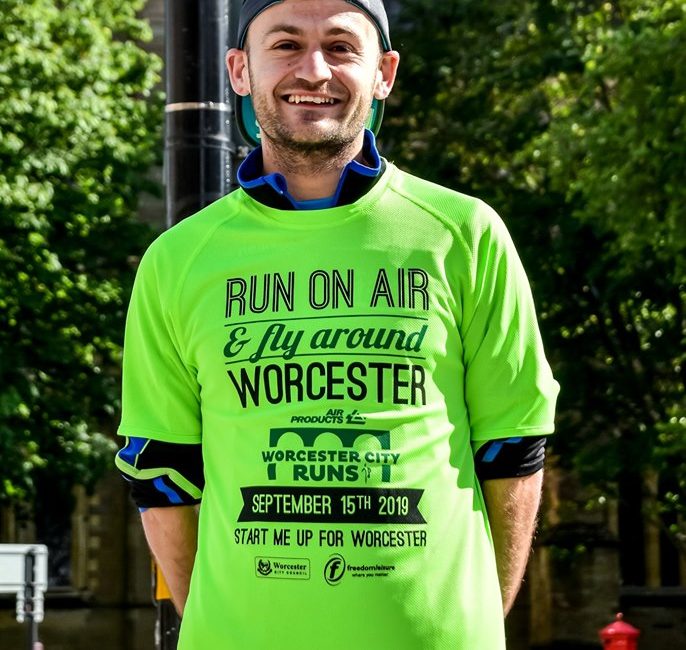 "Hi, I'm Ryan, 34 from Derry/Londonderry, Northern Ireland and I work in Wholesale. I've lived in Worcester now for 16 years. I moved here for further education and decided to stay here.
I love sport, studied sports science and leisure management at college etc. I was never the best at team sports so wasn't likely to be selected for teams. This is why I love running as it is individual and you only compete with yourself even though there can be thousands of people running alongside you. You can be as fast or as slow as you like. I found out with training I can be half decent. Firstly I dabbled in and out, doing the odd half marathon each year then a few years ago started to take it more serious. I've done countless races including half marathons, 10ks, 5ks, 10milers, 24hour runs and five marathons.
Worcester is a beautiful scenic city, so the Worcester city run is a spectacle. The support is brilliant especially around the bridge on the home straight and the people are fantastic. As a Black Pear Jogger we have a massive turnout from our club with it being our biggest home event. I love this race and try to take part every year.
The Worcester City Run holds a special place in my heart also as during the start me up training programme for the half in 2017 I met my Meg who is a fellow ambassador this year. We met, ran the half and many other races together and now are engaged to be married.
I'm looking forward to toeing the start line of the 10k this year and possibly go for a PB, either way I'll enjoy the run as I always do. My 8 year old daughter will be taking part in the junior race and will be great to cheer her on before we set off.
Come join us for either the half or the 10k. See you in September!"