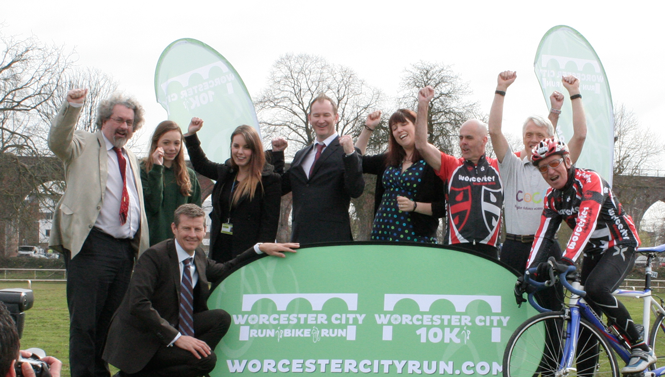 Steve Cram unveils unique series of running events for Worcester
Uncategorised
17th March 2014
Comments Off
1955
Former international athlete, world record holder and Olympic medallist Steve Cram is coming to Worcester to launch a series of exciting running and cycling events set to take place in the city.
Steve Cram will be joined by 13-year-old Nixie Turner, an outstanding local triathlete who won the Worcester 'Race for Life' in 2013, and other members of the Worcester Triathlon Club.
Cllr Adrian Gregson, Leader of Worcester City Council, David Roberts from Events of the North, which is organising the fixtures, Hannah Cox, Manager of the City Council's Sport, Art & Play team  and Helen Mole from the Worcestershire & Herefordshire Chamber of Commerce will also be present.
Worcester City Council is one of the founding sponsors for the new Worcester City 10k, Worcester City Run Bike Run and Worcester City Young Athletes Run, which will take place at Pitchcroft Race Course on 21 September 2014, and also on dates to be confirmed in 2015 and 2016.
The future aim for the "First Class City Series" running event is that it becomes a permanent annual feature in the running calendar, and longer term funding is found to secure the event beyond 2016.
Quote from Steve Cram
The Events of the North team are really excited to be delivering a new event here in the City of Worcester. We're passionate about bringing First Class running and cycling races to first class cities. With such a stunning backdrop to work with we've been able to provide a fast, spectator friendly, fun course for both runners and cyclists. Who knows, if I'm feeling fit come September I may be entering the 10K myself!
Further details of the events, including how to enter, will be announced shortly.