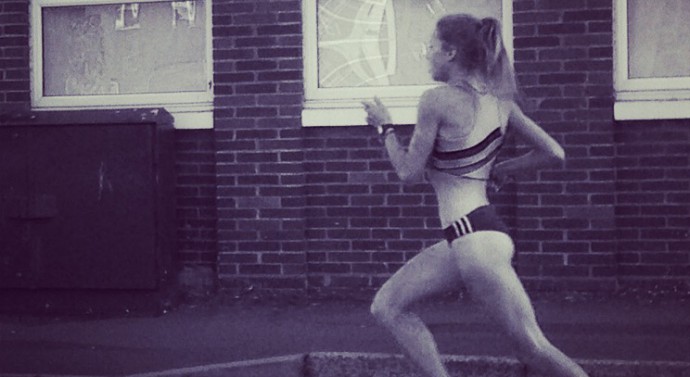 With less than THREE WEEKS till the Worcester City 10km I think now is a good time to be making sure you are fully prepared for the day. Just under three weeks gives you long enough for a few more good sessions and still time to make sure you have the correct gear for the day. Not that you will need much, as it is going to be sunny (well, Im praying it will be sunny!)
It is still hard for me to believe that it was nearly a year ago that I took to the streets for my first ever 10km (in fact still my only ever road 10km) in my home city, with no expectations as to what it was going to encompass, or even if I'd enjoy racing it. But I can assure you of one thing, if you don't try you will never know, and up until this day, it was one of the greatest things I did. Not only did it make clear what my favourite distance was going to be, it also gave me the chance to run against one of the worlds greatest athletes! Double bonus!!
It was always going to be a great opportunity to run in the place I live, and with such a great organised event, amazing support and encouragement on course, and my family being around, what was likely to have already been a great day, was in fact an amazing day!
So if you are still 'hmmm-ing' and 'arrr-ing' about whether or not to enter the Worcester City 10km, what's stopping you? Entry closes on the 16th, so you still have plenty of time… but if you want to experience an event with a massive buzz, fantastic organisation and a brilliant atmosphere then you really need look no further! I guess that is enough encouragement in entering the race.. if you don't then you'll miss out on something spectacular, so be it on your head!
As for me, I am now back into the swing of things, embracing those colder mornings and darker nights, and you know what, I am loving it. I know as it gets colder and darker my opinion is to change and I shall be desperately searching for an opportunity to get my training done in the light, so for now I am going to enjoy the moment and enjoy my running. What's the point in worrying about the future ey? That's what I am trying to tell myself, and as of the 21st September, me, my running and half my wardrobe will be moving down to Bath University, so I guess the future is still pretty scary.
It is opportunities like this though that you have to grasp in two hands and enjoy the ride. I know that when I get settled it will be great, but it is still a daunting prospect. I am looking forward to using their 'world class' facilities, and enabling my training to be slightly more varied than it is at the moment. The ability to have 24 hour access to ice baths, and other recovery aids, as well as a pool and gym can only add to my training. Of course, I already feel sorry for my flat mates. I am sure they aren't used to living with someone who is up at the crack of dawn to go running, or someone who is usually found standing in some sort of strange stretching position, but I guess that's all part of the fun…. I am convinced I will get them running by the end of the year (sorry guys…)
So apart from that small change in my life, I guess now it is time to get some serous training in. I have discovered yoga recently, and it is a great complimentary exercise alongside running. Trust me if you've never tried it you really should. I thought it would be rubbish, and as an individual who finds it nearly totally impossible to sit still for longer then 10 minuets, I was convinced I would be sent out before a 1/4 way into the class. But I even surprised myself! The relaxation, calm stretching and slow movements made a lovely change to the usual body battering that occurs when running! So give it a go, put those Garmins aside and enjoy the relaxation.
Now is the time to try something new. After all, if you don't now, when will you ever. So when you are on the internet signing up for the Worcester City 10km, why not google local yoga classes and see what appears!
'Now is the time to try something new'
really is true. I am sure I have said it before, but you have to live in the moment and not use the classic excuse of 'I'll do that tomorrow'. So whatever it may be, do it now. By that I don't mean you have to go out and run a marathon, because of course that would be very silly, but plan some training or join a running club, be PRO-ACTIVE. Actually applying this mindset to your life in general can be a really great tool, and trust me 9 out of 10 times you will feel better for it too!
So I shall leave you with that. Stop 'hmmm-ing' and 'arrrr-ing' and crack on! There is not always a tomorrow and yesterday has gone!
I very much hope to see you all soon (September 20th in case you have forgotten!)
Run Happy,
Jenny xx @jennynesbitt