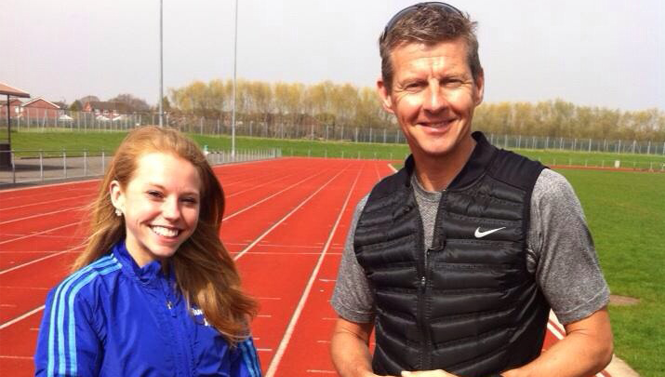 I thought that as I was sat here wishing I was out running I would update my blog. I was unfortunate to pick up an achillies niggle last week, and this has meant that I've had to become a bike lover and swimming fanatic! Thankfully I have great support from 206 Physio therapy who have helped me to catch it early. Hopefully this wont last too long though, as I'd quite like to be outside working on my tan.
Injury though, is part and parcel of the sport and the game that I'm in. Pushing my body each week, there is always going to be a fine line on which I'm walking. I guess this gives you a chance to take a step back though and appreciate what your body can withstand and how well you have to look after it.
I've learnt that understanding why you get injured is a good start to the recovery process, and the prevention to it happening again. I guess this in itself can be hard too… not just detecting the problem but also accepting that you may have made a mistake along the way. No one knows everything and you are always learning, mistakes are part of this. I personally find making mistakes a stressful and upsetting process and can result in becoming cross and frustrated with myself as I feel I haven't been able to get the best out of me. I have to remember that the rough comes with the smooth…..
It's not all negative though, as I have been able to give my body a deserved break from running and a chance to reflect on how much of a passion I have for the sport, something I think is so important when pursuing your dreams.
On the flip side this week, I have had a very exciting couple of days. I am always so grateful for all the opportunities I get and the chances I have to get involved in anything athletics related! This week filming with the BBC alongside Steve Cram was an experience that I shan't forget and something I'd love to build on in the future.
Being able to promote the Worcester City 10km as a local girl is great and I'm honoured to be able to do so. I hope that people are able to see the fun they can get out of entering the race and the experiences they can take in if they do so. I know I have said this before but you really don't have to have any running experience to get involved!!!
Being able to talk to Steve has also been a great opportunity. Especially this week, being able to discuss my injury and what I can do to help with recovery with someone who's 'been there and got the T-shirt', is really valuable and reassuring. It is crazy to think that I am able to have these conversations with one of my role models.
Also this week, I have been lucky enough to receive some kit from Runaround Sports. It's a great little sports shop in Worcester, where they are truly willing to provide you with what you want and need. Support like this is invaluable and greatly appreciated, and it is a great feeling to think that they want to support me on my ambitions, when I'm running or cross training.
So, its been a mixed bag over the last couple of weeks! I have a quote that goes like this – "Everyday may not be good, but there is something good in everyday" and I feel this sums it up pretty well! Its easy to become wound up in self pitying and ignoring all the other things that are going on around you, but remember this isn't going to make the situation any better and most likely going to make you feel worse.
So wake up, get up and embrace the day, whatever lies ahead!
Until next time,
Jen xx
@jennynesbitt
Wishing Jenny a speedy recovery from all at Worcester City Run.