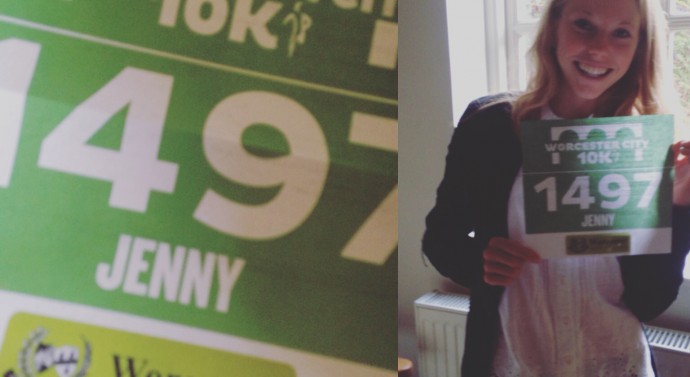 Wow, is it already mid-September?! I am amazed at how fast time has gone this year. Actually how fast time goes every year. One minute you wake up the morning after New Year's Eve envisaging what this year is to bring, the next moment you're huddled around a fire on Christmas Eve. I think it gets worse the older you get as well. When I was little days would go so slowly, now I click my fingers and they have disappeared. I remember mentioning before how you should never take a day for granted and I still firmly stand by this, time waits for no one!
I should really get down to the main point though. I think most of you will know by now that this week brings with it the second Worcester City Run (sorry for blocking up all social media with this fact!) and I have been well informed that it is going to be bigger and better than last year! I for one cannot wait to stand on the start line and run the streets I know like the back of my hand. A lot of you will be locals standing on the start line on Sunday 20th, and I can assure you this is an opportunity that doesn't come around that often (only once a year!) so take in every moment of running on YOUR home ground.
What better inspiration is there to ensure you make the effort on race day than to run alongside the great Jo Pavey. I don't think it is necessary for me to say much more than, hero, really. That's what is great about Worcester. There is no 'elite' start line, everyone is just as important and special as the person that they are standing next to. Whatever the reason is that you are lining up to run, it is just as big and important as the one standing next to you. So do yourself justice! Run through the line, remember to smile and take in the great atmosphere!!
'You get out what you put in' is a well-recognised saying and probably one of the most truthful quotes you will find. When you are pounding the streets of Worcester on race day I want you to remember this! Don't finish and wish you did something different!! Put in all you can and you will get out everything you want. Ok… every race doesn't go to plan and I will be the first to admit how disappointed and upset I am when this doesn't happen, but if you know there wasn't anything else you could have done differently in that moment, then you know you've given it your best shot. YOUR best shot is the best YOU can do. We can't all compare ourselves to Mo Farah, or anyone else for that matter, each individual can achieve, whether this be a 4 minute mile or a 10 minute mile. This doesn't matter.
There is not much more I can say now. Just remember that you've done all the training. There is no point in going out and trying to run your longest/fastest/hilliest run this week. It's too late for that now! Keep your body ticking over, eat a good meal on Saturday night and make sure you're up nice and early on Sunday to allow your body to wake up. Don't leave getting to the start too late, remember to do a warm up and bring along as many supporters as you can! Just remember that you WILL be going faster than the Worcester traffic usually does so enjoy this free-flowing trip!
See you in just over a week…
~~ '' your fitness is 100% mental, your body will not go where your mind doesn't want it to'' ~~
Jenny xx