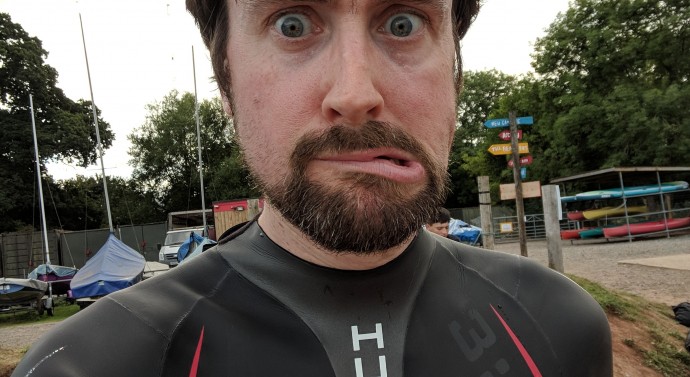 Just a few weeks to go and Chris has been stepping out of his comfort zone! Here's his latest blog:
"A week or so ago I tried something new – I tried open water swimming. This year I was really keen to enter my first triathlon, but I really couldn't swim. In fact, I still can't swim and my open water swimming experience did not go exactly as I had hoped it might! So, at the moment I'm going through the disappointment phase of probably not achieving a goal for the year, while thinking about encouraging everyone to push on and achieve something they've not done before…
Anyway, how many of you are gearing up for your first ever event at this year's Worcester City Run? Are you running your first 10k? Perhaps you're stepping up and going the extra miles for the first time and running the half marathon? In September 2014 I lined up for my first ever event at the Worcester City 10k, so I know a bit about how you might be feeling in the lead up.
The first question was – will I be able to complete it? In my training before it I made sure I had already run further than 10k – at least I knew I'd finish, this was important to me at the time. Secondly, I was also one of those people who wanted to make sure they could run the whole thing, so I was pleased to have done this. However, I've since learnt a lot about running though and it really doesn't matter how you get round. Taking part in a running event is such good fun, sharing the experience with others, enjoying the run round the course, the fantastic support on offer and often raising lots of money for good causes while you're at it.
Thirdly – so I knew I could get round 10k, I knew I could run it all, for me I had to aim for a time. Lay down a PB at my first event. Strava best estimated 10k didn't count here, this was a real event so it would be my first real 10k PB. My Strava estimated 10k was about 55:00, so it seemed a good target. So, how do you go about setting a PB or simply performing well in your first event? Here are some tips that I've found helpful:
Run with a friend who can pace you, but also give you encouragement along the way – I ran with a friend in 2014 and beat my planned 55:00 (I haven't actually got my official finish time, but I recorded 54:43 on my watch). In 2015, when I entered the Run-Bike-Run event, another friend of mine knew I was pacing the 10k to just under 60 minutes so she ran with me to go under 60 minutes for the first time.
Don't go off too fast – this is so easy to do, but it's said that even pacing is the way to achieve the fastest time. If you've given yourself a target time, then you can work out what your pace needs to be. Try to get into an early rhythm / running cadence at that pace and try to maintain it. My sister runs longer distances than I do and one year in the London marathon she overtook over 1000 people in the last mile while only being overtaken by about a dozen (numbers made up from memory, but they are roughly correct) – it's all about even pacing people!
Go off too fast and cling on! Sometimes we need to push ourselves and it's a mental barrier we need to break down. Sometimes we set goals that are too easy to achieve because our brains prevent us from going harder for longer. A friend of mine smashed his target time at a half marathon this year by running with a buddy who was pacing him. They agreed a starting pace and expected to slow each km, but with some suitable encouragement along the way they stuck at that faster pace the whole way!
Don't try or do anything new on the day. This is pretty common advice, but just do the same things you've done before. Eat the same things, drink the same things. Don't be tempted to try those fancy new gels that will put rockets in your feet unless you've tried them before during a similar session in training. Avoid using those fancy new running shoes you ordered while you were ill, unless you've already worn them in. I recently ran a hard effort in a new pair of shoes and found they gave me terrible blisters between my toes, so I've got to choose some different shoes for the big day!
I honestly don't know what my pace will be like at this year's 10k. I'm looking forward to shooting for a PB, attempting to beat last year's 43:20. This week my coach Garry from sportstest.co.uk set me a new running session for the first time, which should help. It was 15 (fifteen!) intervals of 400m at my target 10k pace. What's my target pace this year? It's faster than last year, but that's all I can say right now. I know I'll probably go off too fast, but I'll be trying to maintain an even pace throughout if I can. Maybe I'll be clinging on the whole way!
Whatever your target this year, first timer, pure enjoyment, raising money for good causes, shooting for a PB or a combination of the above, you'll have a great time around the Worcester City Run course, both 10k and half marathon. I'm looking forward to the buzz of the support as I run across the bridge for the last time and down to the finish line.
See you on the start line…
Chris
@cpettifer