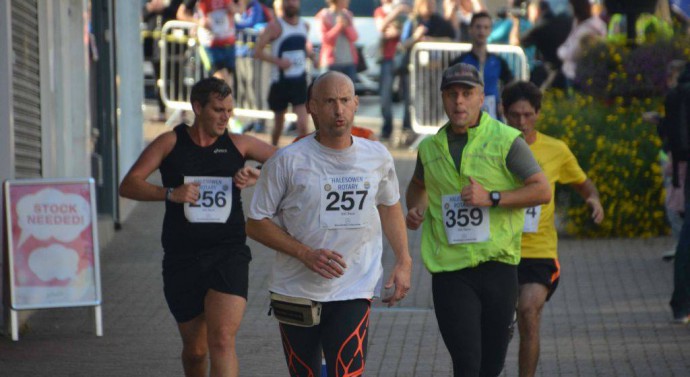 When Zak Small lines up at the start of this year's Worcester City Run he will be among many running for a very special reason.
45 year old Zak who was born and raised in Worcester now lives in Birmingham and will be travelling back home for the 20th September 10k and running for the Stroke Association in memory of his friend and training partner Brian Hodgkinson who sadly died in April.
Bakery manager Zak who lives with his fiancée Suckhi and her two children is also a Dad to Joshua(11). He has not always been a runner but was inspired to take running up to become leaner after meeting up with family in France who were runners themselves. Zak said:
"We came back from that holiday and I was inspired to run the Halesowen 5k that September, came 5th overall, followed by the Great Birmingham Half which I completed in 1:47:55″
Zak had "the bug"!
Zak originally met fellow runner Brian Hodgkinson back in 1988 in Worcester and remained friends, keeping in touch and meeting up occasionally but through their shared love of running they were able to keep in touch and track each other through GPS app "Endomondo" . The two became remote training partners sharing techniques and healthy competition and would occasionally meet up at races such as the Halesowen 10k, planning to run Worcester together in 2015.
Zak tells us: "I didn't know about it at the time but Brian had suffered a stroke aged just 38 and made a full recovery. He decided to run the 2015 London Marathon for the Stroke Association to raise awareness and funds, and was working on a video to share his experiences, training and inspire people to do the same.

Brian had completed the training but sadly he went into cardiac arrest on a short 5 mile training run and passed away just two weeks before the Marathon, on April 10″
Brian left behind a wife and 3 children as well as 2 other children from his previous marriage. Brian's legacy was his Just Giving page that went on to raise over £3000 for the Stroke Association.
"The Worcester 10k was always a run that Brian and I said we would do together as we are from and have an association with Worcester so I will be running "at home" for us both. Brian's widow is coming along to support the small group of us that are running for the Stroke Association in Brian's memory and she is hoping his younger son will also be taking part in the Junior Run for his Dad"
Brian's inspirational video can be seen here https://www.youtube.com/watch?v=65_z_tF5q8w&feature=youtu.be
Here at Worcester City Run we would like to wish Zak the very best of luck in the 10k, and send all our best wishes to Brian's family.
More information on the work of the Stroke Association and information on how to donate can be found here https://www.stroke.org.uk/