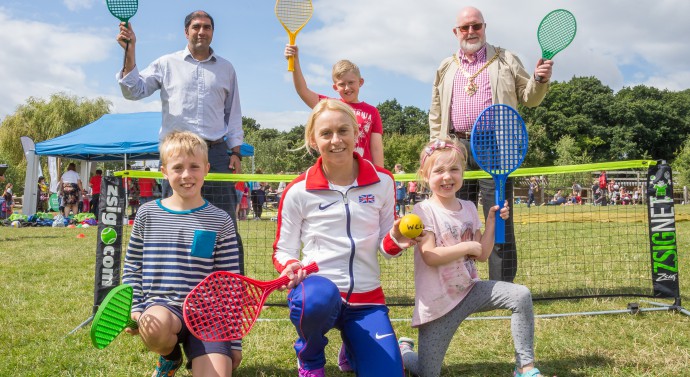 World Championships medal winner inspires local youngsters ahead of the Worcester City Run
News
11th August 2016
Comments Off
244
One of the UK's most successful female athletes of recent years has visited Worcester to inspire local youngster ahead of taking part in her first 10K road race since retiring from track competition.  Jenny Meadows, who has won track medals at 800M in the World and European Championships, met aspiring young athletes and their families in Worcester Woods Country Park, to take part in sporting activities and offer some coaching tips.  The event was put on by Worcester City Council, Freedom Leisure and the organisers of the Worcester City Run races, which will see thousands of runners and cyclists take to the streets of Worcester on Sunday 18 September.  Meadows will line up for the Worcester City 10K, her first road race since retiring from international track competition earlier this year.
Jenny Meadows competed at the highest level of athletics for 15 years and became one of the most consistent performers for her country.  During her track career, Meadows won multiple medals, including a gold at the European Indoor Championships in 2011, and she also won the prestigious global Diamond League series, also in 2011.  Injury limited her final medal haul and it is also likely that she would have claimed more titles but for doping by other athletes.  Always a popular member of the international team, Meadows was captain of Great Britain during the European Indoor Championships in Gothenburg in 2013.
Jenny Meadows comments:
"The Worcester City 10k is a unique event with so many different people coming together to try to hit their different targets.  I am a little bit nervous about running in the Worcester City 10k because I think people will expect me to run really fast, but I'm not a long distance runner so there might be a lot of people in the race who will run faster than me. There's a challenge – sign up for the Worcester City Run and see if you can beat me.
"Worcester should be really proud of putting on such a great event.  Everyone can take part in the Worcester City 10k, no matter their ability. 10k is a distance everyone can complete – some will run all the way, some will run a bit then walk a bit, but it doesn't matter because you can still get to the finish line."