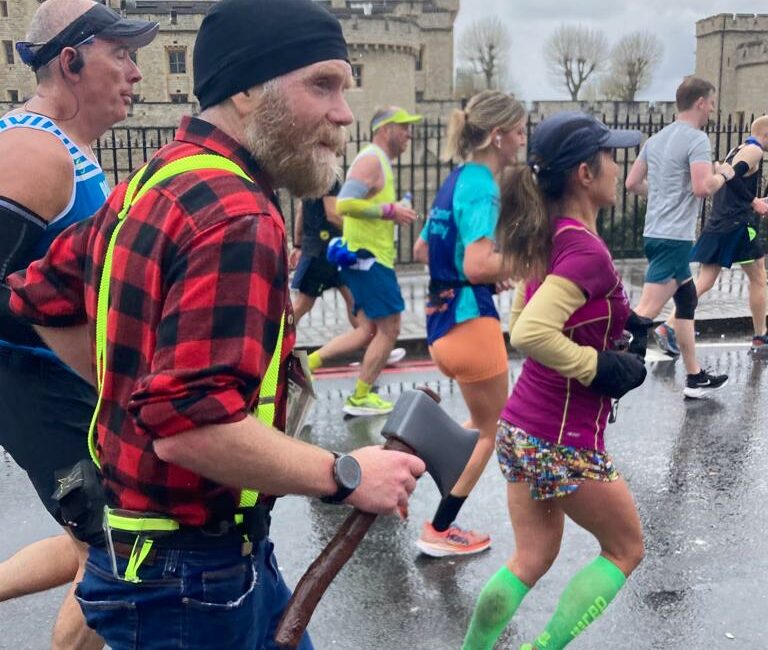 In possibly the most bizarre Guinness World Record attempt, Chris Garratt will be running this year's Worcester City Runs Half Marathon dressed as a lumberjack.
Running on behalf of Worcester Foodbank, Chris is attempting to break the record for the fastest half marathon run in full lumberjack gear. The current record of 1 hour and 55 minutes must be beaten whilst wearing a flannel or plaid shirt, suspenders, denim pants, a stocking cap or beanie, lace-up outdoor boots, and an inflatable or plastic toy axe. The toy axe must be pre-approved by the Guinness World Records (must be a minimum of 30cm) and must be carried in the participant's hand for the duration of the race.
This isn't Chris's first attempt to break a running record as a lumberjack; he ran the London Marathon earlier this year but didn't manage to break the previous record. Blaming the work boots as his downfall, he has decided to half the distance and try again.
Despite missing the record, he raised over £1800 for Worcester Foodbank, and is running to raise awareness for the charity at the half marathon next Sunday.
Chris is hoping to gather as many photos of him running as possible to document his attempt, so if you spot him during the race, send in photos to lumberjackwr@gmail.com and let him know where you've seen him!
We wish Chris and all our runners the best of luck in the Worcester City Runs next weekend!