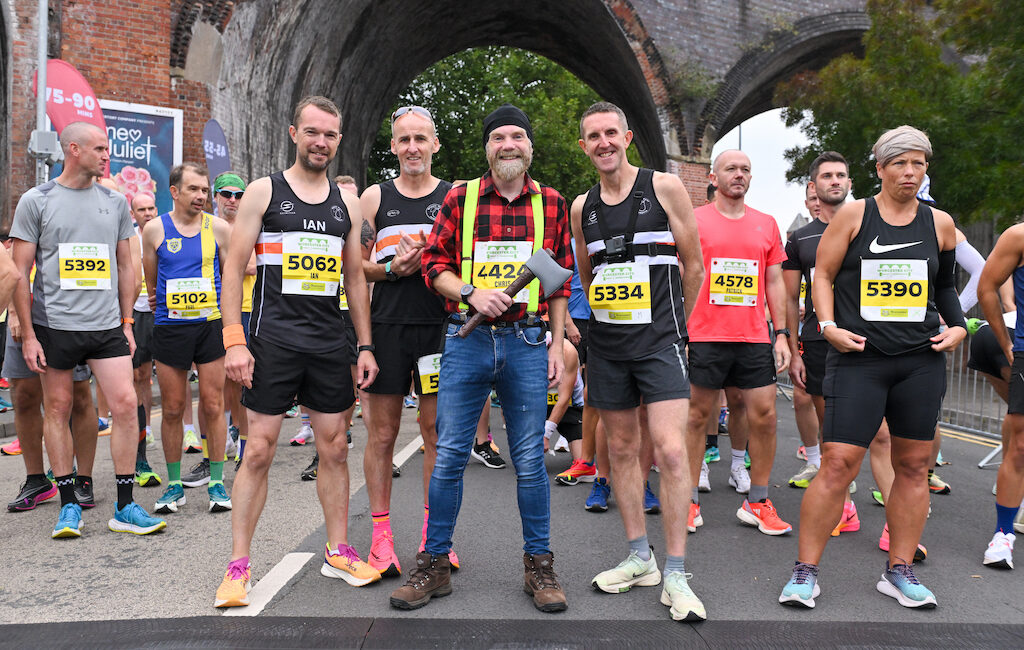 Chris Garratt made history on Sunday at the Worcester City Run Half Marathon when he raced through the finish line and broke the Guinness World Record for the fastest half marathon dressed as a lumberjack.
The Deputy Chief Information Officer from the University of Worcester beat the previous record, set at 1:55:00, by just under 13 minutes, crossing the line in 1:42:30. He was accompanied by two witness runners needed to verify the world record attempt. Chris cheered with the crowd as he finished, and one of the witnesses was ready on hand with a bottle of beer to spray over him.
It's now Wednesday and I think it has finally sunk in, my feet are also not in a good place after running in those boots! As you know I tried and failed to get a World Record in April at the London Marathon and sadly missed out, during the build-up to the Worcester City attempt I was a little apprehensive as things did not go so well at London but I have to say the whole experience at the Worcester City run was amazing.

From start to finish the crowd was brilliant, they kept me going and and gave me an extra energy boost when I needed it most as did all the other runners!. The volunteers and race organisers were equally amazing going above and beyond to help me.

Mile 10 was when it got the toughest, everything began to hurt and I was starting to think that my London experience would repeat itself but the crowd, volunteers, and other runners got me through – I can't begin to try and describe the atmosphere on the finish straight, I've never experienced anything like that before, everyone was behind me, cheering and pushing me on – it was such a great event and I am so pleased to have broken the record at Worcester.
The attempt had to adhere to a set of running guidelines, including what constituted a lumberjack costume. The rules insist the runner must wear a flannel or plaid shirt, suspenders, denim pants, a stocking cap or beanie, lace-up outdoor boots, and an inflatable or plastic toy axe. The toy axe must be pre-approved by the Guinness World Records (must be a minimum of 30cm) and must be carried in the participant's hand for the duration of the race.
After the race, Chris spoke to the crowd in the Event Village to thank all the supporters and spectators who cheered him on during the run, as well as the witness runners who ran the entire 13.1 miles with him to verify the attempt.
He also gave a shoutout to Worcester Foodbank, the charity he was running for, to raise awareness and support them in tackling hunger in Worcester.
Congratulations, Chris!