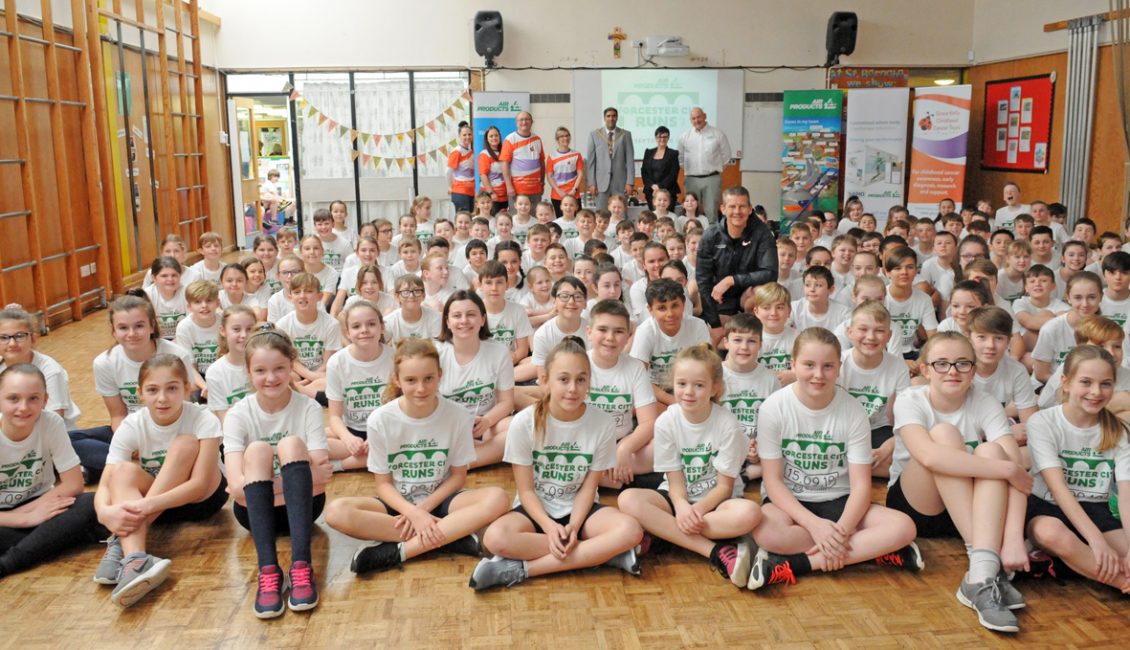 Schoolchildren from Worcester have combined science and sport to help launch the 2019 Air Products Worcester City Runs. Pupils from St Barnabas CE First & Middle School in Drakes Broughton joined athletics legend Steve Cram for a training session to announce an extended festival of running in Worcester later this year that includes a new inter-schools challenge. On the day before the start of British Science Week, they were also joined by Lawrence Hatfield, a science ambassador for locally based industrial gases firm Air Products, which has signed up as headline sponsor for the Worcester City Runs for three years. Delivered through a partnership between Worcester City Council and Events of the North, the Worcester City Runs will be held on 14 and 15 September.
Founded in 2014, the Worcester City Runs have grown year on year and are now well-established on the city's events calendar, attracting many thousands of participants and spectators every September. Air Products supported the events for the first time in 2018 and the company has now committed to a three-year sponsorship, as organisers continue to enhance and expand the festival of running. The 2019 Air Products Worcester City Runs will kick off on the evening of Saturday 14 September with the Worcester 1-2-3, an all-new event for the city centre that will offer people of all ages and abilities the opportunity to participate in a run, at distances of their choice. The Air Products Worcester City Half Marathon, 10K and Young Athletes Run will all take place on 15 September. As well as individual racing, a new inter-schools challenge has been introduced to encourage more young people to participate in sport.
Organisers have also confirmed that local good cause the Grace Kelly Childhood Cancer Trust will be the event's official charity partner for 2019. The trust has fielded fundraising runners in the races in recent years and hopes to raise even more money this year. Jennifer Kelly, who heads up the charity, joined the launch event and was able to meet Lily Filmer, a Year 3 pupil who recently returned to the school after treatment for leukaemia, and who is a supporter of the charity.
Event founder Steve Cram comments:"Working with Worcester City Council, we're really proud of what we have achieved hereover the last few years and the growing success of this event has given us the confidence to add even more to it for 2019. It's great to have a local company on board as our main sponsor and we've got exciting plans to make the Air Products Worcester City Runs bigger and better than ever, thanks to initiatives like the Worcester 1-2-3 and inter-schools challenge.
"We're also delighted to welcome the Grace Kelly Childhood Cancer Trust as our official charity partner. The trust is doing an amazing job of raising awareness of childhood cancer and improving education about the symptoms, to help earlier diagnosis and treatment. We look forward to working with Jennifer and the team to highlight their work and help them recruit fundraisers to run in Worcester on 14 and 15 September."
Cllr Jabba Riaz, Mayor of Worcester, adds: "The Worcester City Runs event is one of the city's most popular annual fixtures – it's great to see the city hosting mass participation sporting events such as this. It's never too late to start running – contact your local club now and experience all the benefits which exercise can bring. Having recently taken up jogging myself, I look forward to joining thousands of others on the start line in September!"
Lynn Willacy, community & STEM ambassador UKI, Air Products, comments: "We are delighted to have confirmed our commitment to the Worcester City Runs with a sponsorship deal for the next three years. It's a great opportunity to support the local community and to see people of all ages taking part, including some of our colleagues."
Jennifer Kelly of the Grace Kelly Childhood Cancer Trust, adds: "We are excited that the Grace Kelly Childhood Cancer Trust has been selected to be the official charity partner for the Air Products Worcester City Runs. We have hugely enjoyed being part of this fantastic event for the last two years and we would like to thank the Events of the North Team for giving us this opportunity.
"By becoming the charity partner, we aim to help raise further awareness of our efforts to fight childhood cancer both locally and nationally, as well as raising funds to help us continue our work. We work to fund research into childhood cancers, teach the signs and symptoms to look for, and provide support to families at the time they need it most. We would love people to join our team to see how many ladybird runners we can have out on the course this year."
Stephen Booth, acting headteacher at St Barnabas CE First & Middle School, comments: "St Barnabas pupils and staff really enjoyed welcoming Steve Cram, the Mayor of Worcester and Lawrence Hatfield of Air Products to our school this week. We place a high value on physical education and the positive impact that it has upon academic progress. We have some talented athletes here and our pupils can't wait to compete in the Worcester City Runs inter-schools challenge."
Entries for this year's Air Products Worcester City Run events are now open at www.worcestercityrun.com and there are 'early bird' prices for the half marathon and 10K races, until midnight on Thursday 4 April. Places on the Worcester City Half Marathon cost £33 for unaffiliated runners and £31 for affiliated runners (rising to £35 and £33 respectively after 4 April). Places on the Worcester City 10K cost £25 for unaffiliated runners and £23 for affiliated runners (£27/£25 after 4 April). Places on the Young Athletes Run (one mile for under 11s and 3K for under 16s) cost £8. Full details of the new Worcester 1-2-3 can be found on the website – places on the event cost £10.
To find out more about the Grace Kelly Childhood Cancer Trust and how to support the organisation by taking part in the Air Products Worcester City Runs, visit www.gkcct.org or email contact@gkcct.org.