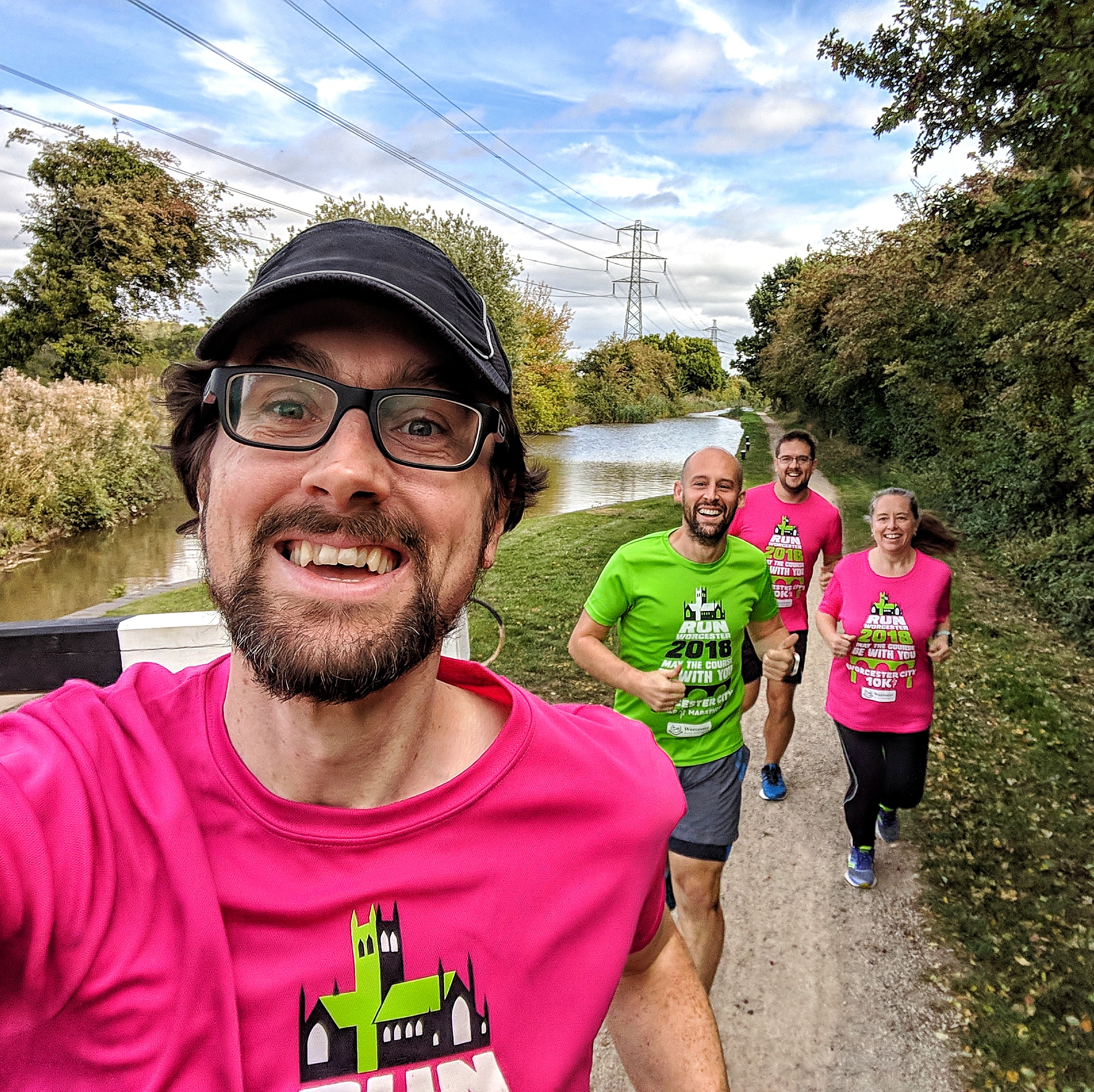 Chris had a brilliant time at the Worcester City Run where he was one of our 10K ambassadors. Read his final blog here, all about why he loved this year so much!
"For me, without a doubt, this has been the best year of the Worcester City Run. There are so many reasons why I think this, here are just a few I'm picking out, with a few thank yous along the way:
Being an EOTN ambassador has been such a privilege and I have thoroughly enjoyed it. I hope you have taken something from my blogs and also enjoyed following me on social media as I've learned the art of taking running (and cycling) selfies! I'm on a journey as an athlete (am I really one of these?) and sharing so much over the last few weeks has encouraged me to continue. I'll say more about my immediate plans later in this post. But first a HUGE thank you to the EOTN team for selecting me as an ambassador this year, it really helped me feel more connected to an event that I already loved.
Getting a little bit more involved. Sort of related to point 1 really, but just being in touch with the event more, engaging with people, talking to people at parkruns near and far about the event, helping out the day before at goody bag packing. It all adds up to a richer experience on the day, but our whole weekend was sort of taken over by the run and this was a really great thing. Second HUGE thank you to all those who volunteered in any way they could. Goody bag packers, number sorter outers, marshals, water station people, bicycle and motorcycle riders, first aiders, and lots of others I'm sure. Thank you for helping making the event what it is.
Seeing my whole family have such a great weekend too. My wife does not run and my children are just too young at the moment, but they also had a great weekend. They came out to Pitchcroft parkrun, helped pack bags and we were all down cheering on the half marathon and junior races before the 10k started. My eldest child really enjoyed high fiving as many people as possible in all the races and my wife got into work this week to a whole bunch of e-mails saying the high fives really helped motivate them to keep going!! We do "highs and lows" in our house at dinner time and the highlight for our eldest was definitely high fiving everyone at the run. So third HUGE thank you to everyone that did this!
The crowds. I reckon support this year was second to none. I know there were a number of people I knew out and about around the course, not least the team from All Saints' Church running the Diglis water station, who gave me a shower as I ran through, but also generally I seemed to hear more people cheering me on. Perhaps I was running with another Chris the whole way?! Anyways, a fourth HUGE thank you to everyone who turned out to support.
Setting a PB. I blogged about this and was pleased to have beaten my time from last year coming in at 42:37. I'm always fairly hard on myself though and do feel like I could have gone even faster. It's a sub 40 target for next year, you heard it here first! How did I do it? Well I went with the don't go out too fast strategy checking my pace after the first km and then just ran the rest on feel.
So what about my future plans?
Well I hope to continue to blog a little on my personal website, where I have duplicated these blogs, but also written about a couple of other things over the last couple of years. I've got a super recipe for vegan friendly ice cream (no really!) and hope to share some more ice cream related content at some point if I find some winning combinations(!), along with more of my training blogs and other thoughts. It can be found at http://www.pettifer.net/
Events wise, in two weeks time I've entered the Oulton Park Autumn Duathlon (standard distance). The Worcester City Run-Bike-Run in 2015 was my first ever duathlon and I loved it. So much so that I've done a few others since, but this will be the longest one I've entered, so I hope to make it through and stay cramp free as that's been a problem for me in the past!
Two weeks after the duathlon I'm running my first ever half marathon at the Great Birmingham Run. However, I seem to have talked myself into running it as Alex the Acorn, the mascot for Acorns Children's Hospice! I work for Open GI in Worcester and our chosen charity this year is Acorns in their 30th anniversary year. Around 30 of my colleagues were running the Worcester City Run in bright blue shirts and raising money for Acorns. I wanted to be able to contribute in a significant way, so decided to ask the question about running in Birmingham as Alex Acorn. I'll be posting updates on my progress on my just giving page: https://www.justgiving.com/fundraising/cpettifer2018
So that's it for another year of Worcester City Run. I'm looking forward to next year already! I wonder when I'll take my finishers shirt off this year – I've worn it every day since… I hope to see you all out and about in yours!"
Chris