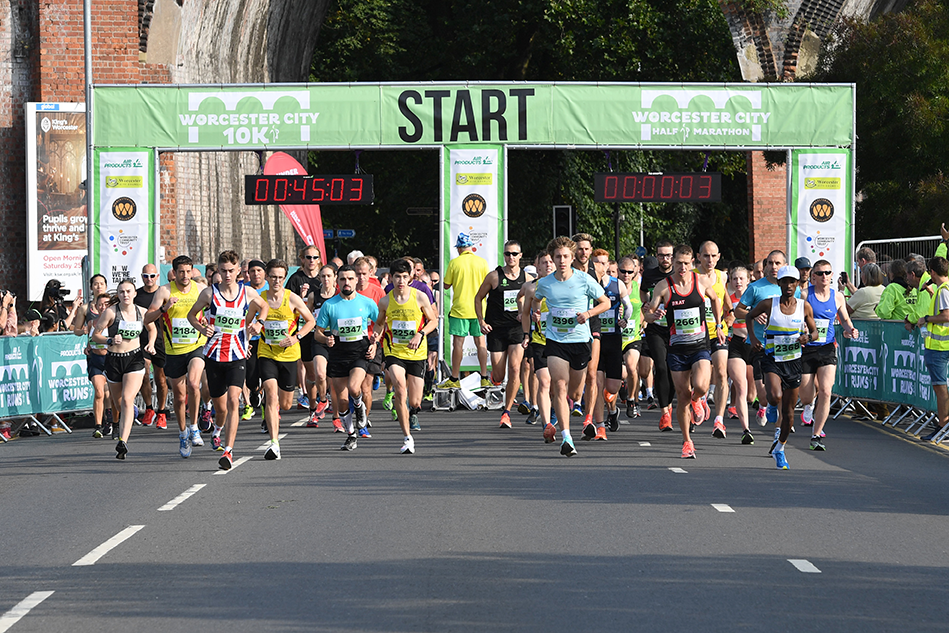 Glorious weather welcomed thousands of runners of all ages for the 2021 Air Products Worcester City Runs this weekend. After an enforced absence last year, the event returned with a two-day programme of races. The popular Worcester City Half Marathon, 10K and Young Athletes Run were joined for the first time by Paula Radcliffe's Families on Track, which saw family groups complete a 10K distance in a continuous relay. Around 3,000 people took part in the events on 4 and 5 September, organised in a partnership between Worcester City Council and Events of the North and sponsored by local company Air Products.
The Air Products Worcester City Runs kicked off on the morning of Saturday 4 September with Paula's Families on Track, powered by Atom Bank. The brainchild of athletics legend Paula Radcliffe, Families on Track gives family groups the opportunity to complete a 10K distance in a continuous relay on laps of either 1,000m, 500m or 250m, in a safe setting and format that allows everyone to contribute, no matter what their age or ability. Over 50 family teams of between three and five took part in the event at Worcester Racecourse, including Pete's Butterflies, which featured Paula, her children Isla and Raphael, and two competition winners.
Sunday 5 September saw the return of the Worcester City Half Marathon, 10K and Young Athletes Run, all under blue skies and in bright sunshine. The races attracted many leading club athletes, including large numbers from local clubs Black Pear Joggers and Worcester AC, plus hundreds who were raising money for good causes, including the event's official charity partner, Worcestershire Ambassadors, which supported Worcester Community Trust through the event. All of the races were started by Cllr Stephen Hodgson, Mayor of Worcester.
Winner of the Worcester City Half Marathon was Gary Whitehouse of Tipton Harriers in a gun time of 73 minutes and 52 seconds. Steve Kenyon of Gloucester AC claimed second place in 74:17, with Nick Hardy of Tipton Harriers third in 75:29. The women's race was won by Gemma Hillier-Moses of Charnwood AC in 78:17, with Hannah Creamer of Telford Harriers second (89:27) and Eleanor Pressdee third (1:40:26).
The Worcester City 10K was won by previous half marathon winner Omer Ahmed of Birchfield Harriers in a very impressive time of 29:40, with Simon Birch of Hinckley Running Club second in 33:26, and James Marshall of BRAT third in 33:33. Sally Russell of the Black Pear Joggers won the women's Worcester City 10K in 41:05, with Charlotte Broadhurst of Croft Ambrey Runnning Club second in 41:13 and Evie Hawksford-Johnson third in 41:53.
In the under 11 Young Athletes Run over one mile, first boy was Thomas Houghton in 7:08, with Charlie Lindley (7:15) second and Daniel Burton (7:20) third. First girl, and third overall, was Millie Sanders in 7:18, with Lola Simpson of Westbury Harriers (7:28) second and Amelia Morris of Telford AC third in 7:48. In the under 16 boys race over 3K, Jacob Bunyon won in 10:33, with Linus Burnage of Worcester AC second in 10:37 and clubmate Josh Sanders third in 11:41. First girl was Worcester AC's Lilia Mico in 11:39, with Phoebe Martin second in 12:05 and Alice Lazenby third in 12:37.
Event founder Steve Cram, who set three world records in 19 days at his peak in 1985, ran the half marathon at the age of 60 and crossed the line in 87:11. Steve Cram comments: "Yet again, Worcester has delivered on every level! The good weather always turns up and so do the runners and spectators. Paula's Families on Track proved to be a fantastic addition to the event and we had two wonderful days of running. The excitement at being back at a big city centre event was clear on so many faces.
"For the first time, I was able to join the athletes on the course and it's a lovely city to run around, though it was hard work in the heat. We're very grateful to Worcester City Council, sponsor Air Products, the enthusiastic spectators, and our wonderful army of event volunteers, who all made it possible to put on the event safely and with such a great atmosphere."