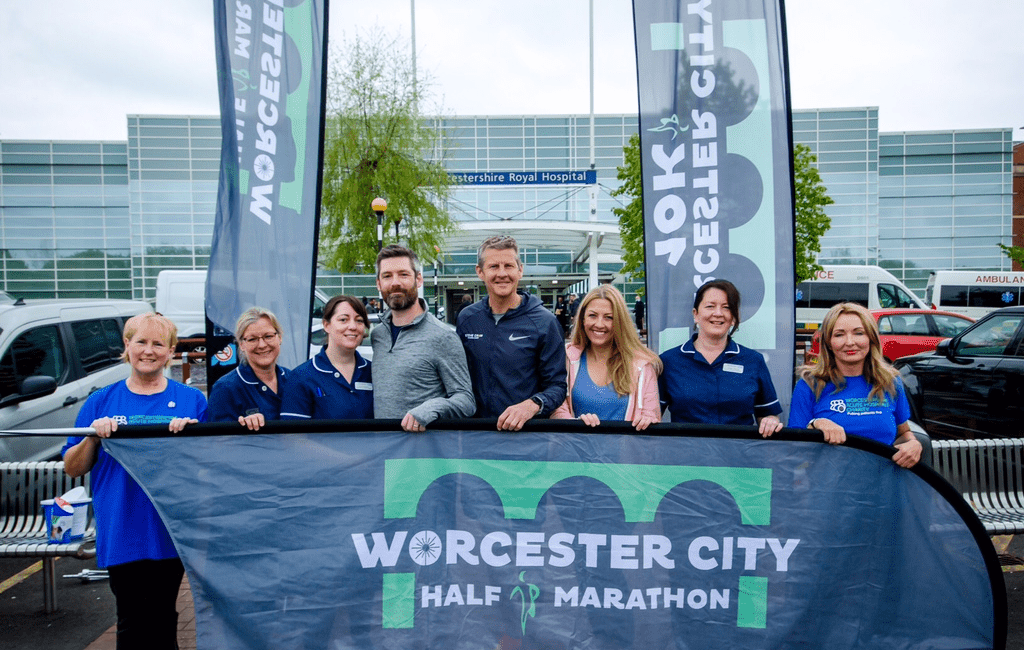 A team of nurses and palliative care staff from Worcestershire Acute Hospitals NHS Trust have signed up for this year's Worcester City Run, to raise money to help enhance the experience for patients at the end of their life. The group will run in support of the event's official charity partner, Worcestershire Acute Hospitals Charity. Today, they met athletics legend and event founder Steve Cram, who offered some training tips and joined them and other NHS colleagues and supporters for a run around a local park.
The 2022 Worcester City Runs will bring two days of events to the city on Saturday 3 and Sunday 4 September, with the return of the Worcester City Half Marathon, 10K and Young Athletes Run, along with Paula Radcliffe's Families on Track initiative for a second time. The event is being organised by Events of the North, in partnership with Worcester City Council, and Worcestershire Acute Hospitals Charity is the new official charity partner for 2022. The Mayor of Worcester, Cllr Stephen Hodgson, was also on hand at Worcestershire Royal Hospital today, to meet Steve and some of the runners who will be fundraising by running in September.
Juliette Fleming is one of the nurses who will be running in the Worcester City 10K and sees first-hand how funds raised are used to help patients at the end of their life, and their families. Juliette comments: "Some of our team are running with our friends and family to raise money to help enhance the care given to patients receiving palliative and end of life care in our hospitals. Some of us haven't run before but we are training hard as we're all passionate about end of life care and promise that every penny will be put to good use to benefit patients and their loved ones."
Money raised from the team's run will be used to purchase items that provide a little added support to people going through an incredibly difficult experience. These include comfort packs for families staying overnight with their loved one, keepsakes for families to bring home with them, as well as mood lights and extra comfortable chairs for the families' room at Worcestershire Royal Hospital.
The Worcestershire Acute Hospitals Charity is already enrolling runners to fundraise for the wide range of services that it supports around the county, by taking part in one of the Worcester City Runs events in September. A group of the charity's recruits joined Steve Cram for a gentle run around a local park and discussed their training plans and ideas for promoting the races to other runners in Worcestershire.
Steve Cram, Worcester City Runs founder and race director, comments: "I have huge admiration for the work that the end of life care team does, dealing so sensitively with people who are at their most vulnerable and emotional. It's been great to meet the group and some of the Worcestershire Acute Hospitals Charity team who will be raising money for such an important cause in September."
Sophie Burt, head of fundraising and community development for Worcestershire Acute Hospitals Charity, adds: "We're so excited to be the official charity partner of the Worcester City Runs this year and to be supporting our team of Worcestershire Acute runners. The charity is here to provide those added extras that support our hospitals. Funds raised are spent on projects that make the experience less difficult, the environment more comfortable or the working day easier. All of our runners and donors will be making a huge difference to both the Worcestershire community and our wonderful staff and we would like to thank them so much for their support."
Anyone who would like to join the team of runners supporting Worcestershire Acute Hospitals Charity at this year's Worcester City Runs should send an email to info@wahcharity.org.
Entries for the 2022 Worcester City Runs are open now at www.worcestercityrun.com. A place on the Worcester City Half Marathon is £35 for runners in affiliated clubs and £37 for unaffiliated runners. Places on the Worcester City 10K cost £26/£28 respectively, and the cost of a place on the Young Athletes Run (one mile for U11s and 3K for U15s) is £8. The price for a family team of between three and five at Paula's Families on Track is £45. Participants in all of the events will receive a t-shirt, medal and goody bag. Other event partners include Worcester Physiotherapy Clinic, Active Foot Company and Worcester Whitehouse Hotel. Follow @EventsOTN on Twitter and @eventsofthenorth_ on Instagram for the latest news from the Worcester City Runs, or find the event on Facebook.
For more information about Worcestershire Acute Hospitals Charity, visit www.wahcharity.org or find the charity on Facebook – @WorcsAcuteCharity