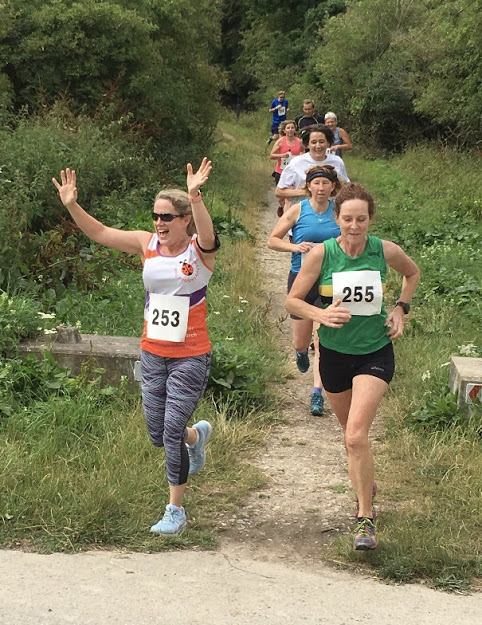 Our Half Marathon Ambassador Liz has got that flying feeling! Read on for more about her adventures at the Watlington 10K last week.
"I love doing smaller events as part of my training. This weekend was my local village 10k.  Watlington is not your every day 10k. It's a cross country race with 800 feet of climbing up, down and up the north ridge of the Chilterns, before a final, glorious downhill towards the finish line. The views are spectacular, if you have a chance to admire them, but the hills really make you work hard for them. Even those, however, are made a little kinder by the alpine-like meadows of purple and yellow flowers that line much of the route.

Starting on the Ridgeway National Trail with a cosy and personal field of just under 60, we ran for about 3k east along the 5000-year old route, falling in with our natural pace-matchers.  Then the hills began. All the way through, 3 of us ran a little ahead or behind each other: I managed to keep up some pace on the hills, and they passed me again on the flats. It felt like we were pacing each other really well and certainly made for some cammaraderie and encouraging banter.
We ran/walked up the first hill, rejoiced in the views and ease of the downhill, then tackled the next 400 foot climb. Though fields, woodland and glades, it was a lovely, if hot and sweaty run.

With 2k to go we had the last run down an ancient sunken path through the woods, and as we got closer to the end I felt like I was flying.  Pushed on by the awareness of the runner behind me, he insisted that me being in front of him was carrying him faster and he didn't want to pass. So we stormed it down together. It was the best 'runner's high' ever.  And, seeing my 2- and 5-year old children supporting me at the finish line made it better still. 
I'm not sure anyone got a photo of me looking smooth, calm and athletic 😉, so here's one of me looking super-excited to see my little fan club just after the start!"
-Liz