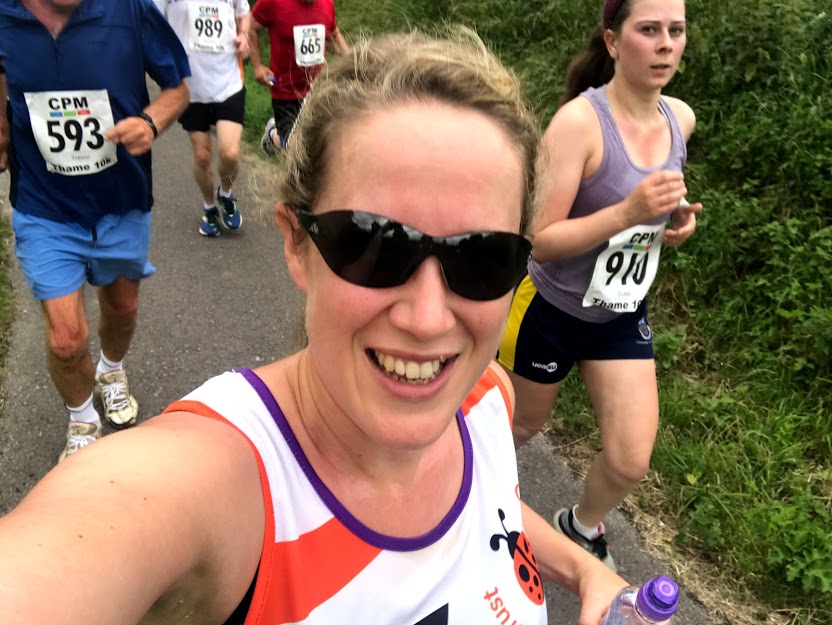 Here's Liz's first blog for us as #EOTNambassador in which she tells us all about her adventures at the Thame 10K last weekend!
"Apart from running the Worcester City 10k last year, I've had a bit of a break from regular running. A winter full of bugs, some work exams and family health issues meant that I felt running should take a back seat.  But by mid March I was feeling lethargic and stressed, and realised what was missing in my life, so the trainers came back out.
After going out a few times to run/jog/crawl around my old familiar routes I saw my pace quicken, felt my shoulders drop, the aches settle down and I was able to enjoy the local Oxfordshire countryside again. Some work colleagues had entered the Thame 10k, so yesterday I joined them at the start line.
It was a brilliant event, with a fairly flat course and great support.  I got chatting with a lovely, fascinating 70 year old, and we paced each other round. If I can still run like that at his age I'll be doing well!  200m from the end the excitement of the crowds helped me find some extra power in my legs.  Determined to get that sub-1 I stormed over the line, and almost flopped in a heap afterwards. It must have looked rather comical, but it felt awesome, and as someone pushed a piece of paper into my hand saying "Congratulations, you've won a spot prize of a bottle of wine", my day got even better! Trevor achieved his sub-1 also, which was good-for-age, and went off to celebrate his birthday with his support crew (aka grandchildren) and I went to my kids' nursery obstacle-course fundraiser. The kids all admired my medal, and  I delighted in telling them with absolute honesty that it's not the winning, but the taking part, that counts… Except, perhaps, when it comes to the parents' race on the obstacle course…"