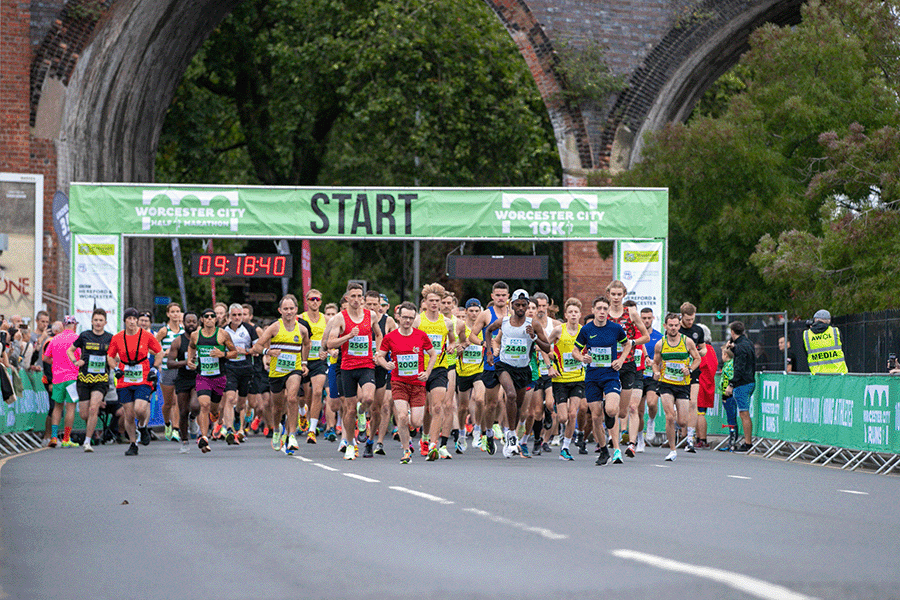 Entries have opened for races at the 2023 Worcester City Runs, with special 'early bird' prices on offer throughout December. Moving to a new date in the calendar, the annual festival of running will now take place on 16 and 17 September next year during a big weekend for events in the city, alongside Worcester Paint Festival and Worcester Music Festival.
The Worcester City Runs are being organised by Events of the North, in partnership with Worcester City Council and Worcestershire Acute Hospitals Charity. Places are now available on the Worcester City Half Marathon, 10K and Young Athletes Run, which will all be held on Sunday 17 September. An early bird rate price for the half marathon and 10K will be in place until the end of the year.
Founded in 2014, the Worcester City Runs attract thousands of runners and spectators to the city every September, and the half marathon, 10K and junior runs are now well established races on the Worcester sporting calendar. As well as leading club runners, many of the participants run to raise money for good causes, including official charity partner Worcestershire Acute Hospitals Charity. The organisation supports patients, staff and services across Worcestershire Acute Hospitals NHS Trust, The Alexandra Hospital Redditch, Kidderminster Hospital & Treatment Centre and Worcestershire Royal Hospital, as well as delivering a range of healthcare services at other sites in the county. Funds raised by runners supports vital research, the improvement of facilities and medical equipment, and staff development and welfare.
Steve Cram, Worcester City Runs founder and race director, comments: "We're getting out of the blocks quickly for 2023 and are really excited that the Worcester City Runs will be part of a huge weekend of events in the city. Opening entries early will help everyone to plan ahead and we'll be working closely with the team at Worcester City Council to deliver memorable experiences for anyone who joins us on 16 and 17 September. The half marathon and 10K are always popular, so I recommend that people don't miss the opportunity to take advantage of the early bird price and secure their place on the start line."
The Mayor of Worcester, Councillor Adrian Gregson, said: "I completed the Worcester City 10k myself this year, and it was a thrilling experience to join such a large number of happy people making their way through our beautiful city's streets, while also raising money for my two charities, Severn Arts and Onside Advocacy. The Worcester City Runs are great events, and I would encourage anyone who's wondering whether to take part to get their place now."
Places for the 2023 Worcester City Runs can be booked at www.worcestercityrun.com. The early bird price for a place in the Worcester City Half Marathon is £33 for runners in affiliated clubs and £35 for unaffiliated runners, rising to £36/£38 from 1 February. Places on the Worcester City 10K cost £24/£26 respectively, rising to £26.50/£28.50 from 1 February. The cost of a place on the Young Athletes Run (one mile for U11s and 3K for U15s) is £8.